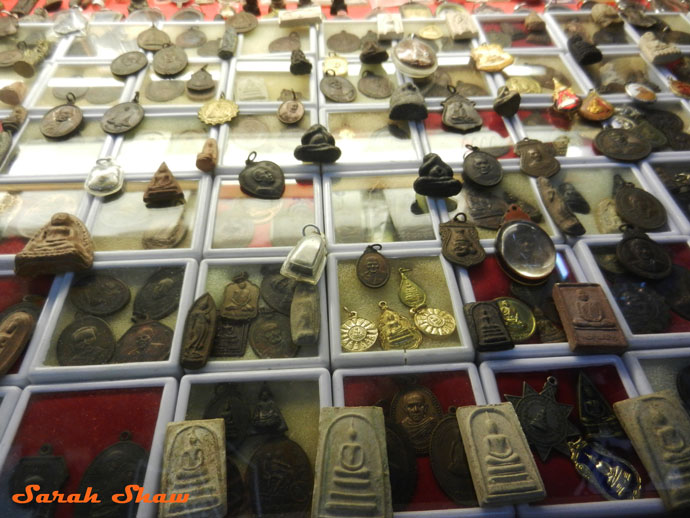 As soon as I boarded my first plane to Bangkok, I noticed something different right away about the other passengers filing past me. Around almost everyone's neck hung at least one pendant that was clearly special. Some had small gold Buddhas while other people had large chains with five or more medallions stationed along it like some over zealous rap star. I finally asked someone about the proliferation of this jewelry and they explained that these were Buddhist amulets worn to protect the bearer during their travels. As I've continued to experience more and more of southeast Asia, I have found many Buddhists with amulets but no group has ever embraced them with as much zeal as the Thais.
Many Thais are very superstitious and amulets popularity relates to their need to try to gain some control in their life through Buddhist or animist traditions. In the case of travel, your wish is for a safe journey where you and you baggage arrive at your destination without incident. Just like there is an app for everything, there also seems to be an amulet for everything. Need help having a baby? Visit your nearest temple and pick up one for fertility. Not even quite to that step yet and you're just wishing for love and romance? You can find an amulet for that too. Maybe you want to be rich and successful. You are in luck as there is also an amulet for that. Even the military will distribute amulets to the Buddhists soldiers to help protect them.  I think you get the idea. For just about every human desire where someone may need an extra edge, an amulet exists if only you can find the right one.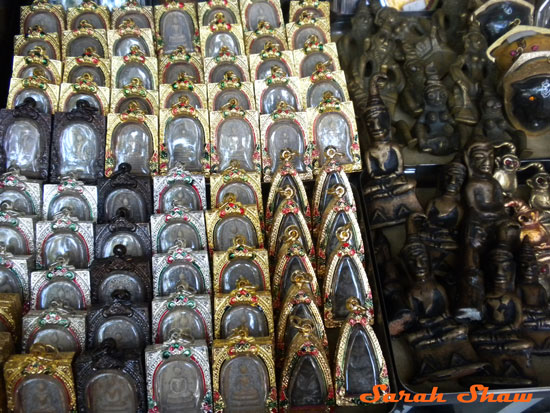 Everywhere you travel in Thailand you will find opportunities to purchase amulets. One of the more popular areas in Bangkok is near Wat Mahathat where whole alleys of vendors have stalls set up with a variety of amulets for sale. While walking through Chatuchak (Jatujak) Weekend Market, I found many stalls offering amulets. Collection of amulets is a serious business and people are willing to spend serious baht (3 million plus) for one with the right provenance. You may see someone with a magnifying glass examining both sides for signs of authenticity and age. While visiting bookstores, you can find several magazine devoted exclusively to collecting amulets.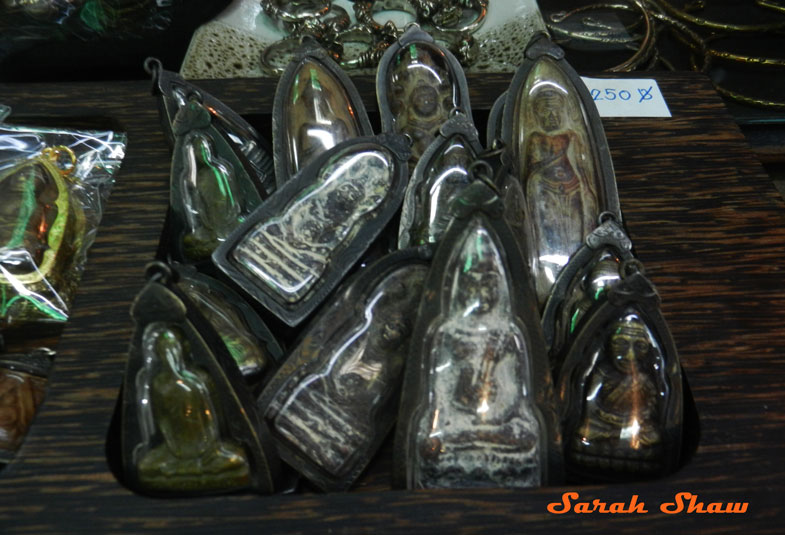 The majority of Thais purchase their amulets while they are visiting their local temple or at one where they have made a pilgrimage. At each temple complex, a number of vendors will be set up selling amulets to the faithful. In fact these sales contribute a significant amount of funds for the operation of the temples. One of the advantages of buying yours at a temple too, is that you can have them blessed by a monk so that you know you are beginning your stewardship with the right karma and intent. Amulets carry power – both good and bad – and choosing the wrong amulet could have dire consequences. If the previous owner was evil or used its power for bad, that karma will come along with the amulet. Purchasing a new amulet is not the answer unto itself either. If it was never blessed by a monk, it will have no power and be no different than your average piece of jewelry.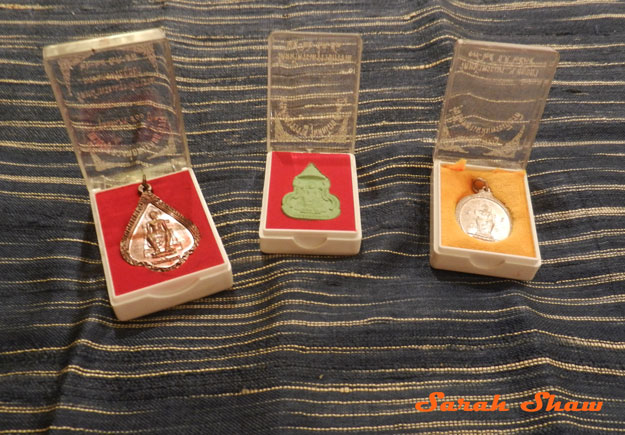 The amulets you can find for sale in Thailand are made from many different materials. Some are small figures made from various metals. You will also find them carved from wood or bone. An extremely popular material is incense dust collected from the offerings at the temples. A plaster powder is created and the material is pressed into a form. Other items may be inserted to give the amulet additional power such as fish bones. Some amulets contain relics such as a piece of hair or bone from a popular monk at that temple. You may find these incense amulets plated with gold. Many pieces will be loose and you will be offered the option of buying a case which is kind of a glass or plastic bubble to hold your amulet with a jump ring at the top to allow you to easily wear it.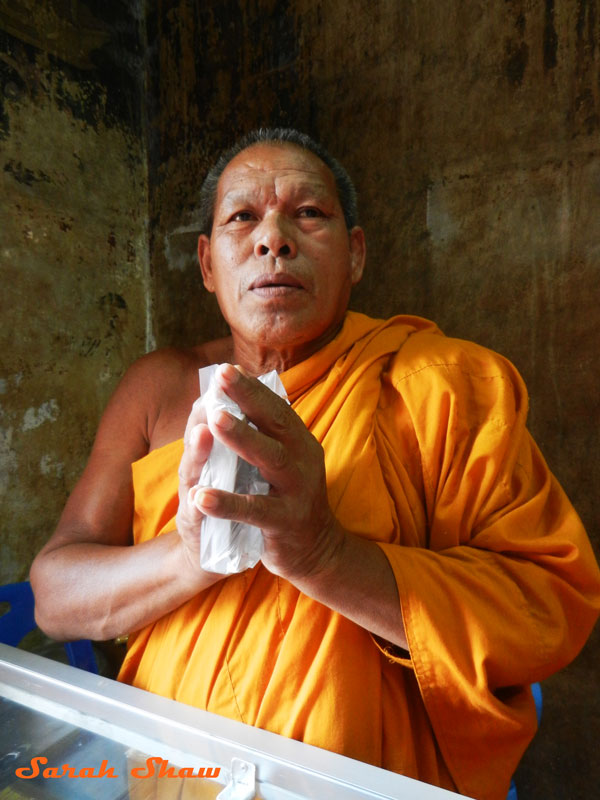 Thais believe that no one can really ever own an amulet. It has a life that is separate and distinct from the person who carries it. The amulet will pass from one person to another for centuries, gaining power each time. In fact, presenting an amulet to someone else is a way for it to gain positive power. During my travels in Thailand, I have frequently exchanged amulets with my local guides and drivers, each taking the others, which allowed our new amulets to have gained more merit. I also found it interesting that consistently my guides refused to take me to markets to buy an amulet when I would inquire about it. At first they always would seem reluctant to help me in my quest but once I explained that I was searching for them for a Thai friend back in the U.S., they would immediately become interested in helping me obtain a special amulet. I was always taken to a temple and they helped me select the best one's only from the case within the temple not one from a vendor outside on the grounds. When I was last in Thailand in October, my guide to Ayutthaya even arranged for a monk to bless both me and the amulets we selected.
Many times amulets also come with a small cloth printed with symbols and script. This is called a bayan or an incantation cloth. The one pictured contains a wish for prosperity. In the center is a garuda, a large mythical bird that is the national symbol of Thailand. The Thai garuda is known as Paya Krut and gaining his protection will not only bring you material wealth, popularity and influence but he is also known to negate evil, black magic forces. If you've spent any time riding in taxis in Thailand, you will notice images like this bayan drawn on the ceiling or visor near the driver. Many people will have their cars blessed by monks to prevent accidents. I was also told that these bayan were the precursor to Thai tattoos. The initial tattoos were permanent blessing markings. Almost as frequently as you come across men wearing amulets, you will also see them with variations of these tattoos.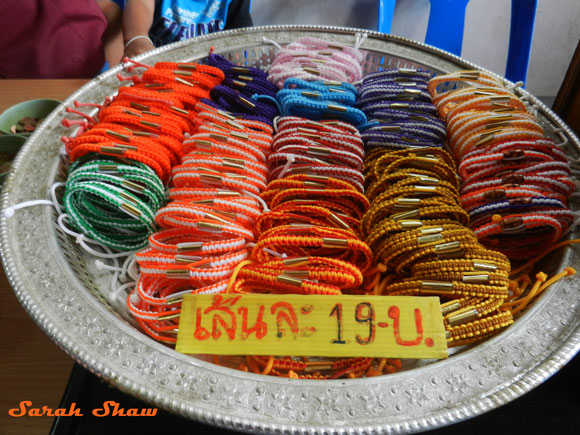 One other way I found to gain protection was through the purchase of one of the bracelets offered near the entrance at major temples. The ones pictured here have a small scroll that is a miniature version of a bayan. Each day of the week is assigned a color so you may choose the one that corresponds to the day you were born. The King of Thailand was born on a Monday so you will often see people wearing yellow on that day, or choosing a yellow bracelet, in honor of their beloved King. The other days and colors are: Tuesday – Pink, Wednesday – Green, Thursday – Orange, Friday – Light Blue, Saturday – Purple and Sunday – Red. More recently, people also wear pink in honor of the King as it is believed that an astrologer forecasted that wearing pink would help the King remain healthy and live a long life. Again, Thais are very superstitious.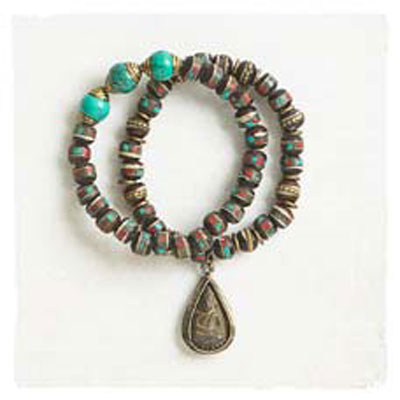 Although there are many websites selling Thai amulets easily found in a search, I can't recommend that you go that route. All of my Thai friends who assisted me in locating amulets felt very strongly that I should be purchasing them directly at a temple. If you don't know the history of an amulet, you won't know for certain if it could help you in the way you hope. I would suggest you wait until you can visit a temple in Thailand yourself. If it is the look you want, I suggest you check out the Athena Bracelet from Arhaus Jewels. I love their collection and the bracelet set at right is no exception. The antiqued Buddha pendant has the look of an old amulet and the Tibetan mala beads with turquoise, coral and brass create a beautiful look. You may remember mala beads from my post a couple weeks ago, Holla for your Mala! Arhaus Jewels is one of my favorite sources for global inspired jewelry when I am shopping from home.
If you have been inspired to learn more about amulets, I suggest you check out Shelia Paine's book, "Amulets: Sacred Charms of Power and Protection." In it you can learn about amulets from all over the world and throughout history. Plus there are over 400 color photographs so you can really learn to recognize the symbols being featured.
One of the things I love about traveling is learning about the traditions of the people I meet. Do you wear any amulets for luck or protection?
Photo credits: Athena Bracelet courtesy of Arhaus Jewels