I took these photos at Trebah Gardens in Cornwall when we visited earlier this year but I saved them for today – you'll see why below.

This view of the gardens was taken from in front of the house looking down on the gardens towards the bay. According to the history of the gardens, this is where Charles Fox stood as he designed the layout of the gardens. I was in plant-lover heaven during our visit to Trebah, it's just a riot of natural beauty.

For example, this weird and wonderful-looking specimen is a nascent Gunnera (Chilean Rhubarb) plant. When fully grown, the leaves of the plant are four to eight feet in diameter presenting, as Darwin described, "a very noble appearance". The Gunnera section in Trebah is fairly large and is, I'm sure, an imposing sight at the peak of the growing season.
The kids, of course, didn't find the gardens themselves as interesting as I did. That's OK, BigB and his cousin C could have spent all day playing on the rope swing.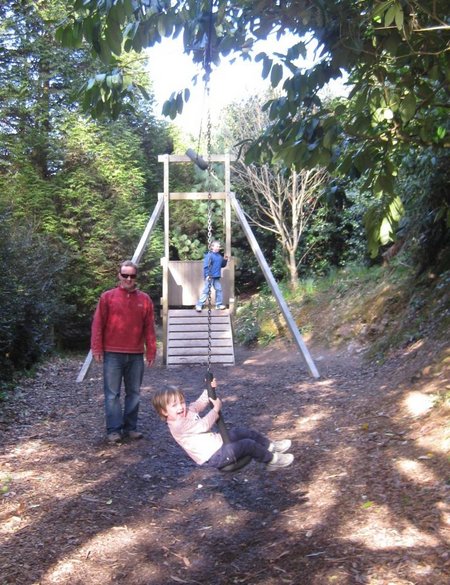 And when we did make our way through the garden down to the beach, BigB got a stone skipping lesson from Uncle D.
While WanderDad, Uncle D and BigB were busy searching for the perfect stone and competing for the title of 'Stone Skipper Champion', I took a look around the beach area. And I found this:
Tomorrow is June 6th 2009, 65 years since the D-Day landings. I found it pretty powerful to stand in front of this plaque and imagine the activity on this same beach at that time. A somber moment on a fun-filled day.
P.S. If you're reading this Dad, Happy Birthday!!
Enjoy more Photo Friday fun at DeliciousBaby.
Related Posts:
Proposed Cornwall Trip Itinerary
Farm Shops In Cornwall
Subscribe to this blog using RSS, email or follow me on Twitter.