As the wind rattles my windows, I sit here with three layers on, a wool skull cap and gloves as I write this. And I live in 'sunny' Los Angeles. When this new video by Coronado Brewing Company, featuring sun-kissed beach and brew adventures, came across my email today, I had to share it. It's all about having fun with friends in WARM weather and boy do I wish I had a big dose of that right now.
[youtube=http://www.youtube.com/watch?v=NeGfhwTSWy4?hl=en_US]
The video was produced to celebrate the launch of Coronado's Brewing Co.'s tasting room. It's a 750 square foot, 25-tap tasting room located within its recently completed 20,000 square foot production facility in San Diego, California. If you have connections, you can score an invite to soft openings happening now as of January 12, but their official opening is scheduled for early February.
Prior to the tasting room's debut, fans seeking from-the-source tastes of the company's award-winning beers (Orange Avenue Wit, Mermaid's Red, Idiot IPA, and more) were required to travel to the island community of Coronado, southeast of San Diego proper.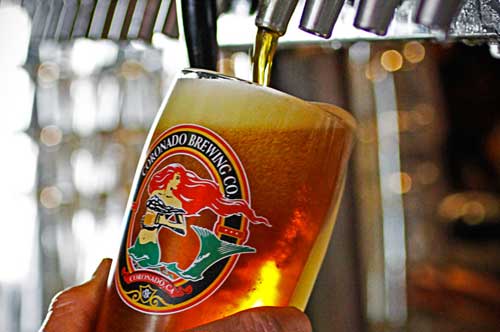 Now, a trek across the Coronado Bridge (the iconic thruway for which the company named its 2012 creation, Blue Bridge Coffee Stout) is no longer necessary for San Diegans and visitors drinking in the region's exceptional craft beer culture.

Coronado's Brew-Ha-Ha Beginnings
In 1996, brothers Ron and Rick Chapman realized a long-time dream. Way ahead of the craft brew curve, they opened a brewpub in the heart of their hometown of Coronado. Back then, craft beer was still a foreign term and San Diego County was home to a mere handful of breweries, most of which were struggling to find their identity. The Chapman brothers did not grapple with this. Their clear-cut mission was clear: to celebrate their islander roots through the creation of exceptional beer. And those noble ideals intact, Coronado Brewing Company was born.
In no time, CBC became the pride and joy of the Crown City behind an assortment of abundantly hoppy West Coast-style ales. That early success drove them to start distributing their beer outside the brewpub. It wasn't long or far for their first sale. The Coronado Brewing Company delivered their first keg to historic hometown icon The Hotel Del Coronado. From there, slowly yet steadily, CBC's fine, hand-crafted beers trickled into the local market where they fast became favorites amid San Diego's burgeoning beer scene.
When it does warm up again, here's other ideas on what to do in San Diego, CA.
Photo and video courtesy of Coronado Brewing Co.