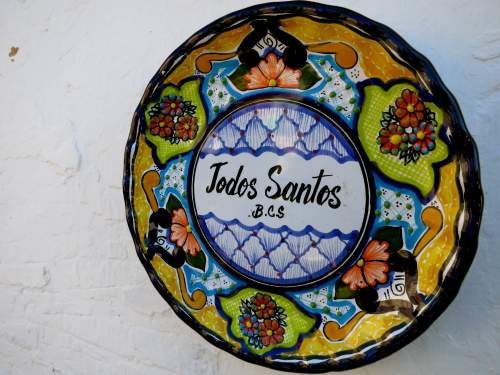 Cabo, Mexico I've been to. Done the all-inclusive, party-in-the-pool with margaritas all day thing. Returning to Baja, I wanted a different experience – more culture, more authentic and more tranquil. Todos Santos – an artist enclave and a surfer's hideaway – was just what I was looking for. And Hotel Guaycura also fit my needs – hacienda-styled charm, upscale boutique with only 14 rooms and centrally located in Todos Santos.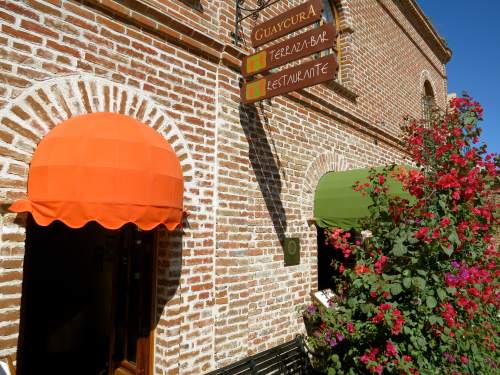 After nearly causing a traffic accident by driving down the wrong way on a one way street in Todos Santos, my girlfriend and I checked in to our rooms at Hotel Guyacura outfitted with fuchsia pink pillows and sofas, large windows to let in the fresh Pacific Ocean air, a colorful balcony and gigantic copper bathtub.
Sky Bar Sunset
Arriving just in time to watch the sunset, we headed to Guaycura (pronounced Y-Koo-RA) Hotel's rooftop bar, Sky Bar, to try our first margarita of the trip. Opting for a non-traditional margarita, I ordered the cucumber-basil and my friend, Lindsay Taub, ordered the mango margarita. The margaritas were elegant in flavor profile but still retained a serious kick of tequila.
"This is the best spot to watch the sunset in Todos Santos," explained Renata Mohar of Guaycura Hotel. With warm Baja winds gently blowing, the sun turned vibrant hues of pink and orange.
"Are the sunsets this amazing every day?" asked Lindsay. Renata simply nodded her head as she wistfully watched the dramatic sky recite its daily poetry. She added, "This is a typical day at Guaycura."
Gourmand Guaycura
Hearing about a chef from Veracruz at the helm of Guaycura's restaurant, we headed downstairs to the Mediterranean-style courtyard patio for dinner. The young Chef Alejandro Sanchez came to our table and asked what we were in the mood for. "Everything! You decide," I said. A somewhat surprised but pleased expression came over him. "Being from Veracruz, my style incorporates Baja's fresh selection of fish with Veracruz preparations," explained Sanchez.
Five small courses ensued, each artfully plated and delicately delicious. The scallop ceviche (see photo below) was the bright shining star of the meal. We ended the feast with passito, a port-like aperitif made from raisins.
If a foodie destination is what you crave, Hotel Guaycura offers a five-night Guaycura Gourmand Package including a visit to local farm, a cooking/cocktail class, a wine paired dinner and a historic tour of Todos Santos for $1665 per couple.
The next morning, although not really hungry, we ate again. And so glad I did. I was smitten with the beef and egg burrito named Desperata Guaycura. Heading out for a day of hiking, turtle watching and gallery gallivanting, it's a kind of stick-to-your-ribs breakfast to keep you going all day.

But before our active adventures began, we got a massage at Guaycura Aena Spa. It was a small, candlelit room. No sauna or jacuzzi extras, but the simple room did the trick.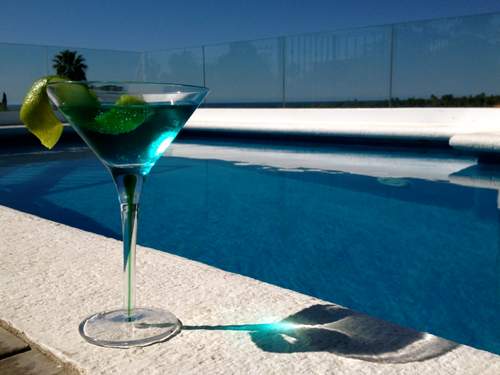 Sipping cocktails like the aqua marine colored beer cocktail Azulejo or the Watsumara cocktail of licor, pineapple, oj, grenadine, vodka floater poolside afterwards complete the relaxation session.
All Saints in Todos Santos
Can I just tell you how much I adored Todos Santos? Located about an hour's drive from either La Paz or Cabo, it was my kind of Mexican experience. Friendly people, live music and dancing in the town square and most importantly – safe. The sleepy town has about 5,000 residents with a dozen or so galleries of local and expat artists.
And it's magical – literally. It is one of the few "Pueblos Magicos" or Magic Towns in Baja, designated by the Mexican government for its historical relevance.
Head here for recommends on where to go for Todos Santos nightlife and cocktail scene.
Photo of scallop ceviche by Lindsay Taub.