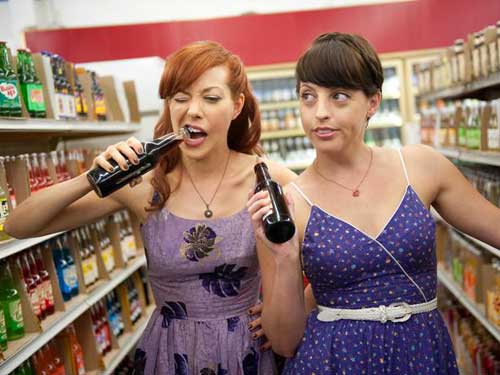 Ever since I stumbled upon their YouTube video demo-ing the McNuggetini, in which most bartenders call an abomination, I have secretly stalked these ladies dressed in color-coordinated vintage garb. Alie Ward & Georgia Hardstark are the kind of women I like: well-dressed, witty and wacky.
[youtube=http://www.youtube.com/watch?v=iX8Hzxu7C1g?version=3]
The infamous McNuggetini Cocktail Demo
I watched their cocktail show, Drinks with Alie & Georgia, on the Cooking Channel. Some of my favorite cacamamie cocktail concoctions include the Cereal Killer and the Gel-oh Salad Shot.
Last year, I actually met them at The Taste Awards and tried to act nonchalant, but couldn't hide my adoration. They were quite humble in their reaction to my fawning, "Wow! Somebody knows us? We have a fan!?"
This year, I actually got to interview them. It's a Wanderlushers dream come true.
Here is an excerpt of the interview:
As the queens of the McNuggetini, pray tell what inspired this cocktail?

Georgia Hardstark: Thirst. Hunger. Shamelessness. Alie worked long, truly insane hours as a writer at the LA Times and at the end of a long day, we wanted to hang out — but we needed a drink that provided both sustenance and enough booze to anesthetize the feelings of hopelessness and fatigue that are common to staff writers at print publications. It became an inside joke between the two of us, until we brought it to life in a video that was filmed in Georgia's grandmother's kitchen.
To read the rest of the interview where they talk about their latest show, Classy Ladies, and reveal their most disgusting cocktail creation to date, go here: Societe Perrier's Meet Your Mixologist: Alie & Georgia.
Photo courtesy of Cooking Channel.