I'm throwing my girlfriend a baby shower and I have been on the hunt for something different than the mundane Mimosa. It has to but fun, fruity and effervescent and I found it: Prévu Sparkling Liqueur.
And to boot, it's all-natural AND organic. Sure to be a crowd pleaser for the health conscious Los Angeles lady. Prévu is 70% vodka and 30% cognac. Sounds too stiff for an afternoon soiree? Au contraire. It is infused with black currant, raspberry, blackberry and a touch of violet flower. It's not potent at all, I checked. At 17% alcohol proof, it's 1-2% higher than most California wines. And that's a good thing in this case when in search for the perfect daytime shower sipper.
Here is the fun-filled fruity drink I'll be serving at my friend's baby shower, inspired by Prevu's ChinoisTini (as featured in photo). No, I will not be making cocktails individually for guests but will be serving this as a punch (punches are all the rage again, even in bars) with floating frozen lychee, topped with a fresh edible flowers.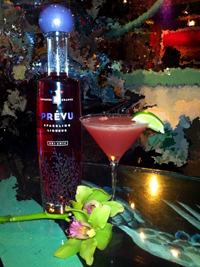 The Pampered Prévu Punch
1 bottle of Prévu Sparkling Liqueur
1 cup Elderflower liquor (St. Germain Liqueur is available almost everywhere)
2 ¼ cup Grapefruit juice
Juice from 2 16 oz cans of lychee (found at Asian markets)
6 Limes
Drain juice from canned lychee. Save lychee and pop in the freezer overnight. Mix all ingredients in you're a fancy crystal punch bowl the day of party. Squeeze three of your limes in the punch and slice lime wheels with the remaining three. Add frozen lychee, sliced limes and top punch with a handful of edible flowers. If you'd like it to last longer, add a bottle of soda water or ginger ale. Voila! Serves 20.
Whether it's a chic or a chick party you're planning, Prévu is a party in a glass: www.drinkprevu.com