Kosher wine beyond Manischewitz? Before traveling to Israel, I thought Manischewitz was as good as it gets for Kosher wine. And let's face it – it's like the Catholic's communion wine, good for one purpose and one purpose only – religious ceremonies.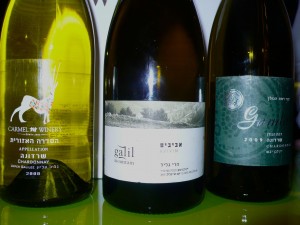 About a decade after the wine revolution in California, since the 1980's, Israeli Kosher wine has quickly been evolving into an art form.
Many are even winning awards. For example, in 2007, Robert Parker's The Wine Advocate awarded 14 Israeli wines 90 points or higher out of 100.
Since the late 1960's, when Carmel Winery made the first dry wine breaking away from the typical sweet Kosher wine of the past, there are over 260 Israeli wineries and many are Kosher boutique wines made on a Kibbutz.
I had Kosher wine every night of my eight day trip to Israel and had to know – what makes it Kosher?
Here are the Kosher regulations to be able to seal it with a K for Kosher:
Only grapes four years or older can be used
Every seventh year the vineyard fields must be fallow. No other fruits or veggies can be grown between the vines either.
It must have the hechsher ("seal of approval") of a supervising agency or organization (such as the "OU" sign of the Orthodox Union), or of an authoritative rabbi who is preferably also a posek ("decisor" of Jewish law) or be supervised by a beth din ("Jewish religious court of law") according to Orthodox Judaism.
All tools, equipment and storage facilities must be Kosher – meaning no contact with bread, grain or dough.
During harvest, only Sabbath observant male Jews can work on the production. (Many of Israel's top winemakers don't fall into this category, so they cannot touch the wine or equipment during the process.)
During the production of kosher wine, no animal products can be used. (Sometimes non-kosher winemakers use gelatin or egg whites to clarify wine.)
One percent of the wine must be discarded as a symbolic gesture of the 10% tithing paid to the Temple in Jerusalem in historical Judaism.
Wine barrels must be cleaned three times.
Beyond these guidelines for Kosher winemaking, there is another kind of Kosher wine called "mevushal". This means that it is still Kosher even if a non-Jew opens it or pours it.
For Kosher wine to be mevushal – it must be boiled or flash pasteurized to retain its religious purity. (Notice circled K for Kosher wine and Not Mevushal indication on Chez Eugene bottle of wine)
Israeli Kosher Wineries

Carmel Winery – Located in Northern Israel with very sophisticated wine shop and visitor's center.
Bravdo Winery – Tried their 2008 Cab Sauvignon in Tel Aviv's Dallal restaurant.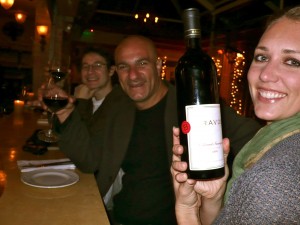 Recanati Wine – Head winemaker, Gil Shatsberg, is a graduate of the Viticulture and Enology Program at the Davis University of California.
Chez Eugene Wines of Negev Desert – Culinary gem using local desert-grown products with their own vineyard's wine.
More Israel Kosher wine resources
Kensington Tours' 11 Day Israel Visions and Vineyard Holiday
The Atlantic article, "Why People Drink Sweet Wine on Passover"
Israel Wine Tasting Guides/Reviews
Rogov's Guide to Israeli & Kosher Wines 2011