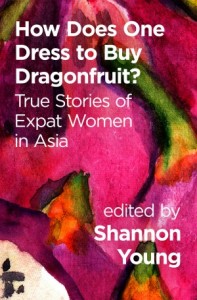 How Does One Dress to Buy Dragonfruit? True Stories of Expat Women in Asia edited by Shannon Young
Unlike expat women, I have had no trouble being a visitor abroad. I have always enjoyed meeting locals who are generous of spirit. When you visit with an open heart, any social faux pas is laughed away as unimportant and easily overcome. Is it inappropriate to wear this color to this ceremony? "Would you like to wear my shawl?" Did I just cut in 'line' because the queue protocol is unfamiliar to me? "Don't worry about it, dear. Enjoy your visit." All I've had to do was be sincere and genuine in my interest and everywhere I have gone, people have been kind and helpful. I am sure there are many reasons for this but one of them is that my presence is at most a temporary inconvenience.
When a woman actually lives abroad, the patience of the locals can wear thin and the novelty wears off. "At some point you would think she would learn what is appropriate attire for visiting the market!" It's that in-between place, when you start to feel comfortable, but not really, where most of the stories in this book take place. Each of the authors communicates their love for their adopted culture even while expressing their sense of "otherness" in it. Some are funny, others poignant, but all of them are instantly relatable.
In Gods Rushing In Jenna Lynn Cody beautifully articulates her skepticism even as she honors her unexplainable experience, and instead of a contradiction, it's kind of the point.
In How to marry a Moonie Catherine Rose Torres confronts the expectations surrounding her international marriage and resolves her own expectations, cultural and personal.
In Our Little Piece of Vietnam Sharon Brown gives birth to her daughter abroad and experiences motherhood for the first time.
In Waiting for Inspiration Coco Richter struggles until she laughs with the complicated employment situation in Hong Kong.
All of these women speak in their unique voice but each express what every woman has felt. You don't have to be an expat to relate to their stories but the multicultural layer of their experience opens a window to understanding a different world.
What Wander-Readers will Love:
Vivid descriptions of life in many different Asian countries
Nuanced explorations of an aspect of each culture
No obvious, predictable cultural misunderstandings (a personal pet-peeve of mine)
How Does One Dress to Buy Dragonfruit has been my favorite summer read so far.
Read ~ Write ~ Wander
~Angie