When I travel, I always take several film cameras with me. This year, I've been experimenting with different types of film from Lomography. I took their Revolog Kolor 35mm with me to South Beach, Miami.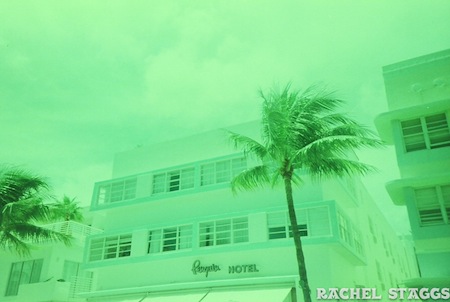 I was expecting a bit more variation in color after viewing the samples, but maybe South Beach is just too perfectly turquoise.
Have you tried this particular film or any of the Revolog films from Lomography?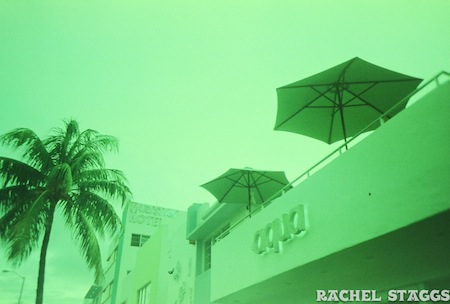 To make sure I'm not upset if/when my film experiments don't turn out, I try to capture things digitally as well.
As you can imagine, with an average of five film cameras in rotation, I have a difficult time keeping track of what film is in what camera. I have tried keeping a little book of notes detailing this information, but it just takes some of the spontaneity out of it.
I have a feeling that will change after this year of experimental film. Previously, my furthest experiments were with redscale film, tungsten film, and slide film.
You probably can't tell, but the full moon is in these last two shots. It was stunning to watch it rise over the ocean before sunset.
I'll be reporting back here with more film experiments! I have a feeling I'll be gathering my little books for keeping records. Please let me know if you have any record keeping/tracking tips for me!
May your journey be your muse,
Rachel
<iframe style="width:120px;height:240px;" marginwidth="0″ marginheight="0″ scrolling="no" frameborder="0″ src="//ws-na.amazon-adsystem.com/widgets/q?ServiceVersion=20070822&OneJS=1&Operation=GetAdHtml&MarketPlace=US&source=ss&ref=ss_til&ad_type=product_link&tracking_id=traveltracks-20&marketplace=amazon&region=US&placement=B004EJ4XDS&asins=B004EJ4XDS&linkId=TH3MWCLIUKX6DCTD&show_border=true&link_opens_in_new_window=true">
</iframe>