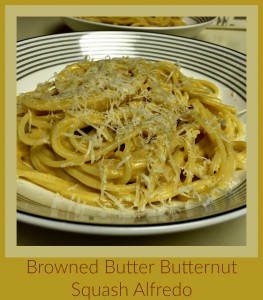 Oh yes, I went there. Butternut Squash Alfredo with Browned Butter. Alliterating all over this post title. But, a pasta sauce this delish needs a highly dramatic name. I've found myself with a lot of spaghetti noodles lately – the man of the house doesn't like spaghetti. He loves fettuccine, angle hair pasta, all other noodles, but not spaghetti. Especially not spaghetti with red sauce. So, I needed to find creative ways to use the aforementioned pasta in a way that he will like. And he loved this dish. Didn't even mention the poorly shaped noodles.
Butternut squash Alfredo isn't anything new, in fact, I'm pretty sure it's a thing these days. Many like the squash version because it apparently has fewer calories than regular Alfredo sauce. I'm not sure anytime you willingly eat a pound of pasta you can call it healthy, but I can appreciate the vegetable content of this dish. I suppose if you wanted to get technical, you could skimp on the butter and use low fat milk instead of half and half, but why deprive yourself?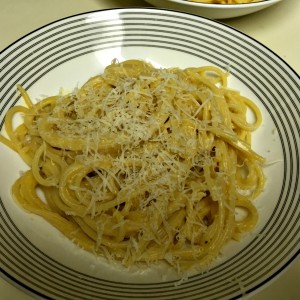 This recipe makes a lot of sauce – I intend to freeze half and use it later. If I had access to them at the moment, I would have used fresh sage, rosemary and parsley, but I had to settle for the dry stuff.
Ingredients:
Whatever pasta you want, I just used half a package and saved the rest of the sauce, but this sauce recipe would feed a large family.
1 small white onion, diced
1/4 Cup of butter
1/2 of a butternut squash, peeled and diced
1 Cup vegetable stock
1 Cup half and half
1 Tablespoon dried rosemary
1 Tablespoon dried sage
salt and pepper to taste
Directions:
Cook the pasta according to package directions
Meanwhile, heat the butter in a saucepan with a tightly fitting lid – you're going to make the sauce all in one pot. I used my dutch oven. Like I said, we're making a lot of sauce.
Once the butter starts to melt, add the diced onion, a pinch of salt and cook for a few minutes.
The butter will start to brown and get nice and aromatic.
Add the butternut squash and veggie broth to the pot. Cover and let cook for about 10 minutes, or until the squash is fork tender.
Add the sage and rosemary to the mix.
Mash the squash mixture up with a potato masher (or a fork if you don't have one).
Working in batches, blend the sauce in a standing blender. If you have an immersion blender, by all means use it here.
After blending, gently stir in the half and half.
Add salt and pepper to taste – you're good to go.
Pour over noodles, add some freshly grated parmesan if you so desire and enjoy!