One of my favorite cookbooks, Super Natural Everyday, by Heidi Swanson, has an amazing recipe for delicata squash roasted with a strong miso-curry paste, tossed with cilantro and tofu. These curry miso bowls with roasted butternut are inspired by Swanson's dish, but the curry-miso becomes a sauce instead of a paste, making a lighter dressing for the bowl.  I added quinoa, kale and chickpeas – this is a perfect meal to bring for lunch all week. I also used a butternut squash – my sister brought me one fresh from the garden – but delicata would work just as well.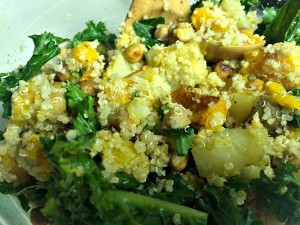 Ingredients: 
1/2 of a butternut squash, peeled and chopped into 1/4 inch cubes
2 medium russet potatoes, peeled and chopped into 1/4 inch cubes
1 can (or about 12 oz) of cooked chickpeas
1 Tablespoon olive oil
Salt and pepper to taste
1 Cup dry quinoa
1 Tablespoon white miso
1 Teaspoon red curry paste
Juice of 1 lemon
1 bunch kale, tough stems removed
Directions: 
Preheat the oven to 400 degrees.
Toss cubed butternut and potatoes with most of the olive oil, and salt and pepper to taste. Lay on an even layer on a baking sheet.
Toss the remainder of the oil with the chick peas, add salt and pepper to taste. Lay the chick peas on an even layer on a separate baking sheet (the chickpeas cook faster than the veggies, so we want to take them out first).
When the oven is ready, roast the veggies for about 30 minutes, turning twice during the cooking process. The chick peas take 15-20 minutes, just keep an eye on them.
Cook the quinoa according to package directions. I use a rice cooker, so I can't tell you how to actually make quinoa. Or rice for that matter.
While the rice and veggies are roasting, whisk the miso and curry paste together in a small bowl. Add the lemon juice, and salt and pepper if necessary.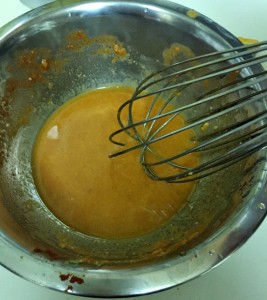 When everything is done cooking (veggies soft and slightly browned, quinoa fluffy and full of life, kale de-ribbed and crunchy) combine it all in a big bowl. Toss it with the curry miso sauce and enjoy.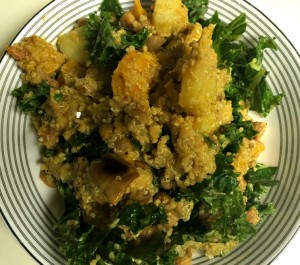 Never miss a chance to eat, drink and travel with Wanderfood. Follow me on Facebook, Pinterest  and Twitter, and subscribe to my RSS.