If you're looking for yet another reason to make Washington your favorite state, consider this: Washington is the second largest producer of wine in the nation, we also have the second highest number of craft breweries – only California has more of either. As if this weren't enough to convince you to put your thirsty roots down here, (or at least visit) Washington is the proud home to more than 30 cideries, more than any other state in US.
The large amount of fermented-apple-goodness coming out of Washington makes sense – according to the Northwest Cider Association, "Washington is the largest apple producing state in the country and harvests over 100 million boxes of apples each year from 175,000 acres of orchards around the state." Though the popularity of cider is a relatively new trend across the US, cider is a beverage with historical clout. John Adams reportedly drank a tankard of the stuff every morning. Europeans have practiced the cider-making art for (practically) ever, but Washington's cider profile is set to be a little different. To find out exactly what 'different' means, I'll be joining other cider enthusiasts this weekend, at Summer Cider Day.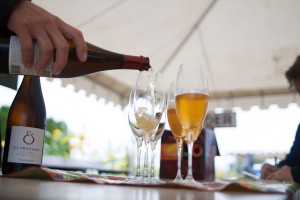 Admittedly, cider is not currently my drink of choice – I'm usually distracted by trying new beer flavors, or feeling fancy over a glass of wine. Summer Cider Day, taking place this weekend in Port Townsend, may just change my tune. This weekend marks the 5th annual Summer Cider Day – featuring the best in Northwest cider, and tickets are still available.
Summer Cider Day is organized by The Northwest Cider Association (NWCA), an organization that represents over 70 cider makers from throughout the Northwest. They seek to "bring cideries and cider lovers together to learn, experience and the enjoy the Northwest cider culture." Summer Cider Day in Port Townsend does just that – visitors can sip and sample over 60 ciders from multiple Northwest cideries. This family-friendly event also features blue-grass music from the Whisky Minstrels, and gluten-free food from Sirens Pub. All this celebration is happening on Saturday, August 8 from 12 p.m. to 5 pm at the Northwest Maritime Center in Port Townsend, Washington.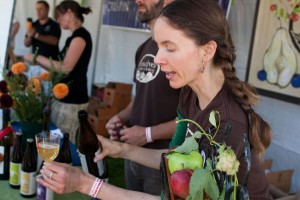 The event is expected to draw a crowd – it is "one of the largest cider tasting events in Washington state and has helped establish the Northwest as a nationally recognized cider region," says Sherrye Wyatt, executive director of the Northwest Cider Association. Though Washington cideries will certainly have their moment at the festival (from places like Port Townsend, Vashon Island, Spokane, Seattle, Wenatchee, Olympia and Tieton) featured ciders will also come from Oregon and Montana.
I'll be making a weekend out of it by joining cider makers and other cider-fans at Alpenfire Organic Hard Cider's Cider Breakfast in the Orchard on Sunday, August 9, at 10 a.m. Tickets to the cider breakfast are still available; Alpenfire's owners, Steve and Nancy Bishop, will serve a breakfast in the orchard, modeled after those traditionally served in European cider country.
Tickets are $25 in advance or $30 at the door and include admission for one, 10 tasting tickets, and a keepsake Northwest Cider Association glass. Additional taste tickets, fare from Sirens Pub, and bottles of most of the featured ciders will be available for purchase. The Northwest Maritime Center is located at 431 Water Street in Port Townsend. Event tickets and event details are available at www.nwcider.com.
For more information about the Northwest Cider Association, visit www.nwcider.com, or follow the growing organization on Facebook and Twitter (@nwcider).
Never miss a chance to eat, drink and travel with Wanderfood. Follow me on  Facebook, Pinterest  and Twitter, and subscribe to my RSS.