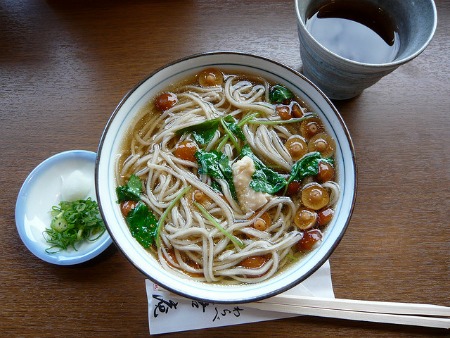 Japanese Year End Soba Noodles (Toshikoshi) are a tradition in Japan for starting the new year off fresh. Toshikoshi roughly translates to "year-bridging" or "end of the old year, entering the new year."
One of the best things about Soba is that there are several ways they can be prepared, and *bonus!* they are super healthy! Great way to kick start that "eating healthier" resolution you make every year…to begin AFTER the champagne of course.
Soba Noodles are made with buckwheat flour, and are often served with dipping sauces or topped with nori (seaweed). They can be served hot, in a broth, or cold like a salad. Here is just one possible way to make your Japanese Year End Soba Noodle meal:
Japanese Year End Soba Noodles
Ingredients
6 Cups dashi: Dashi is a type of Japanese fish stock and can be found in any Asian market or in Whole Foods
3 Tbsp mirin: Mirin is a very common ingredient in Japanese cooking and is similar to rice wine or sake
2 Tbsp sugar
1/3 cup soy sauce
Soba Noodles, about 9-10 oz, cooked according to package directions
Shredded Nori (seaweed) and any additional toppings you desire
Directions
1. In a 2 quart saucepan, combine the first 3 ingredients (dashi, mirin and sugar) and bring to a boil over medium heat.
2. Simmer on medium-low for about 3 minutes.
3. Being careful not to bring back up to a boil, slowly add the soy sauce, keeping heat consistent.
4. Fill individual serving bowls with the already cooked noodles and pour broth over them.
5. Top with a small amount of shredded nori or topping of your choice.
6. Enjoy and Happy New Year!
Eat Well, Travel Well ~ Samantha
Photo Credits
Soba Noodles Soup: Jessica Spengler via Flickr