Austin, Texas is known for its music and technology, and prides itself on its barbecue – but one unexpected edible may be more enmeshed in the roots of Austin's culture than any of these: the breakfast taco.
Some take the taco as the symbol of alliance between Austin's Mexican heritage and increasingly hipster present. Others merely seek to find the "Best Breakfast Taco in Austin" (seriously, Google that phrase and dozens of results pop up). After spending nearly four days eating my way through the Texas capitol, I have to say, I woke up Tuesday morning craving this and nothing else. It had stiff competition.
I could have woken up Tuesday morning craving LA Barbecue brisket, the duck fat fries and pork belly at the Salty Sow, or the beef ribs the size of a large child's fore-arm from The Salt Lick. But, possibly because I'd have no shot at reproducing any of those at home in California, my taste buds settled on the Breakfast Taco.
The breakfast taco is TexMex at its finest, but with an Austin twist. At Taco Deli, Cilantro, onion, scrambled egg and tortilla seemed to be the key ingredients, with variations branching out to include steak, cheese, bacon, sausage, migas, roasted peppers, refried beans, spinach, egg whites and avocado. Additions like wild boar and fettuccine noodles also make it on the list from time to time – Austin is an adventurous town. The taco itself is made with the smallest possible tortilla, allowing the breakfaster to order several in different varieties (making it far superior to the large California breakfast burrito).
I woke up on Tuesday morning fixated on breakfast tacos. I briefly considered doctoring Del Taco fast food with eggs, but decided to hoof it to the grocery store for taco-makings instead. By lunchtime, I had a plate of darn good breakfast tacos.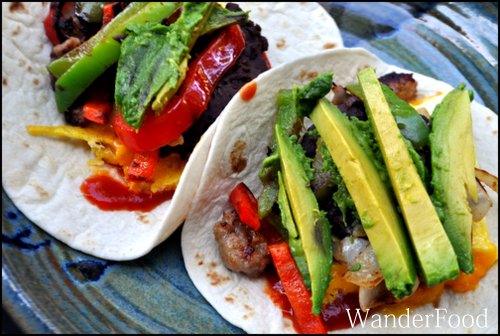 Everywhere I go, I try to bring home a new culinary souvenir to introduce to my friends and remind me of my latest adventure. But few of these recipes develop into weekly favorites – in fact, with so many new flavors to try, I rarely repeat a recipe. The breakfast taco, however, has endeared itself into my weekly repertoire.
Here's my breakfast taco recipe: Taco sauce, eggs, extra sharp cheddar cheese, sliced onions and bell peppers, refried black beans and avocado on flour tortillas. With so many variations though, I'll be experimenting with many other combinations (and I'd really like to try my hand at making migas). What would you put in your taco?
If you think I'm joking about the passion Austinites have for their breakfast tacos, read this article from KUT News.
Also, I did not get a picture of a real Austin breakfast taco, much to my regret. They looked so good that I ate them too fast. #FoodBloggerFAIL
It's WanderFood Wednesday! If you'd like to share a food or travel-related post with the Wanderlust and Lipstick audience, post it below in the LinkyTools widget!