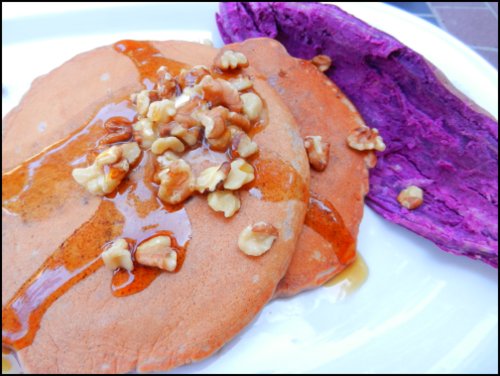 Sometimes you don't go looking for a recipe. A recipe finds you. After my pilates class this morning (hey, food bloggers have to burn off those blog posts!), I was craving carbs. But I didn't want to get on a carb high, followed by a creative crash-and-burn, so I thought "Gee, what do I have in the kitchen to curb the carb craving?" Sweet potatoes. Specifically, purple ones.
So I looked up "Sweet potato pancake recipes" on the iPad (handiest kitchen gadget since the toaster, I'm tellin' ya), and discovered it's kinda Southern. Which got me thinking: bourbon and Bisquick. Not being able to find the Bisquick, I reached for the nearest insta-pancake mix I had in the cupboard, which happened to be Trader Joe's pumpkin pancake mix. So far so good.
I mixed 3/4ths cup pumpkin pancake mix with 2 eggs, 2 Tb vegetable oil, cinnamon, brown sugar and salt, then scooped as much of my baked purple sweet potato out, and added just enough milk to create a pancake mix consistency. Honestly, this is my favorite way to cook. No recipe, just feelin' it. Then, I added a dash of bourbon and a handful of walnuts.
Three trial pancakes later (why do the first ones always come out UGLY?!), two *perfect* pancakes flipped their way out of the pan. Brown on the outside – and purple on the inside.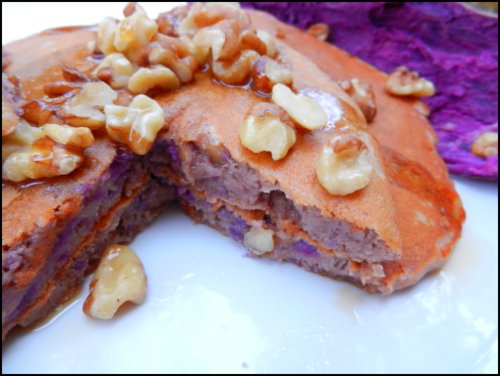 Eat well, travel often.