While we were in Rome, my husband and I took a cooking class with the appropriately named Cooking Classes in Rome, and on our menu of things to make were stuffed squash blossoms. I've always been curious about stuffed squash blossoms. I mean, taking the flower of a prickly plant, stuffing it, and frying it? What? Who thinks of these things?! Turns out, it is just as fantastic as it sounds. More even.
For 4 people, you'll need:
8 Fresh squash blossoms (Farmers Markets are the only places I've seen these, and they are in season right now!)
Vegetable oil
2 cups Flour
1 very cold beer
Salt and pepper
Mozzarella, chopped into small rectangles
4 thin slices of prosciutto
1 glass Sparkling mineral water
1 tsp olive oil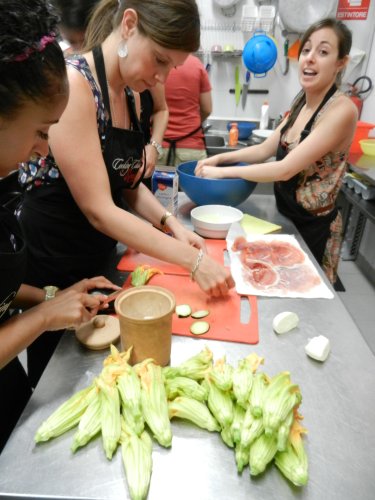 1. Clean the squash blossoms carefully, and poke a finger in to remove the pistil and stalk without damaging the petals.
2. Cut thin slices of prosciutto (or eggplant for vegetarians) and wrap them around the mozzarella rectangles. Carefully insert the wrapped cheese into the blossoms.
3. Prepare the beer batter by mixing 2 cups of flour with the ice cold beer until it resembles pancake batter. If it's too thick, add the sparkling mineral water until it achieves pancake batter consistency. Now add one teaspoon of olive oil, salt and pepper. The colder the beer, the crunchier the batter will turn out to be.
4. Heat up enough oil to cover the stuffed squash blossom (at minimum) in a deep pot. When it's frying-hot, dip the blossoms in the batter, then deep fry until the batter turns golden brown.
5. Remove fried squash blossoms to a paper towel and pat off excess oil.
Serve with marinara dipping sauce.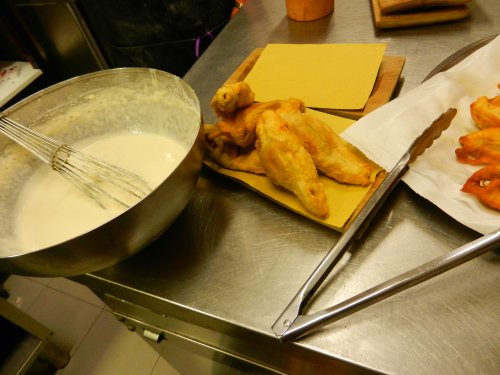 Want more recipes from Rome? I like this cookbook for ease of use (and it's downright pretty): Williams-Sonoma Foods of the World: Rome: Authentic Recipes Celebrating the Foods of the World
Eat well, travel often.