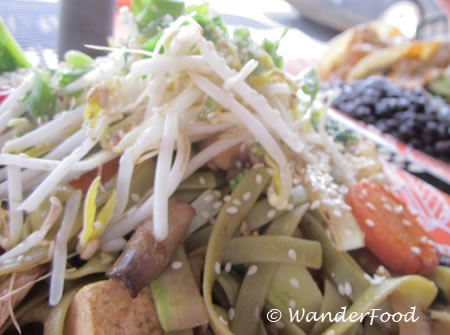 No, not real mermaids. Mermaids, with a capital "m."
This walk up restaurant is located in Kapa'a on the east side of Kauai. It's so inconspicuous that you likely wouldn't notice it if someone didn't tell you about it or you missed seeing the line at the window at lunchtime.
Above is the Tofu Stir-Fry Noodle Plate – loaded with veggies, sesame seeds and bean sprouts. This could have easily served two of us but both Jon and I ordered our own meals – and both of us ended up with plenty of leftovers.
One of the most attractive things about Kauai (other than the sunshine) is the availability of fresh fruit and veggies on this, the Garden Isle. And the meals served at Mermaids Cafe are chock-o-block with fresh ingredients.
Here's how to find Mermaids Cafe:
4-1384 Kuhio Hwy
Kapaa, HI 96746
808-821-2026
Please join WanderFood Wednesday! Here's all you do:
1) Add a food-related post to your site (it can be a recipe, food photo or any other foodie find)
2) Include a link to WanderFood Wednesday so your readers can enjoy other food posts
3) For the best click-through results, add your name OR your blog name and the title of that day's post to the Mr. Linky form below
4) Include a link directly to your food post (not your main blog)
If you're a newbie, see more about WanderFood Wednesday here.
Life's Short, Eat Well!
[mrlinky owner=wanderfood postid=16Mar2011 meme=2888]