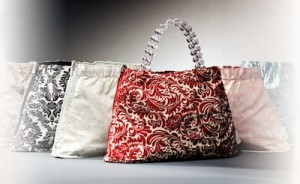 When major airlines started charging fees for checking a bag, I renewed my devotion to the carry-on. I often push the boundaries of what's considered a "personal item." The back and shoulder surgery I'll need one day from carrying these boulder-weight bags will likely exceed the accumulated costs of a checked-luggage fee. But hey, you can't put a price tag on integrity.
At airport security, I'm accustomed to fishing out the sad, crinkly Ziploc bag of contact lens solution and toothpaste. Eventually the tiny bottle of shampoo explodes, I treat myself to a new Ziploc, and the cycle begins afresh.
When the folks at Jonny Bag sent me one of their cute TSA-compliant cosmetics bags, I was glad to give it a whirl. No disrespect to the ziploc, but I was intrigued by the idea of a bag that could get you through security and look chic. On the Jonny Bag site, you can choose from a variety of handles (bamboo, gold, tortiose, beaded, and clear lucite) for the strong plastic inner bag. Then you select the cloth outer bag that speaks to you (some of the available patterns are shown in the photo above.)
Part of the appeal of the Jonny Bag is that you keep your lady products concealed until the last minute. Then you unzip the cloth outer bag to reveal the plastic inner bag to be scanned by an x-ray machine or eyeballed by a security guard. I appreciate this idea even if I might not be its target demographic. If fellow travelers see the contents of my ziploc, I don't really mind. They'll learn that I love Clinique and that I'm kind of a wingnut about sunscreen.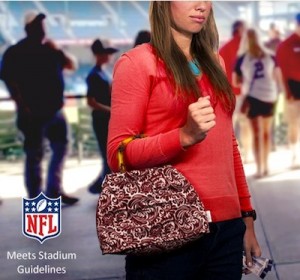 On my recent trip to Kaua'i, I carried my Jonny Bag in my regular satchel, already jammed with my laptop, water bottle, wallet, and clutch of fashion-related periodical literature. I folded up the Jonny Bag after I passed through security and found that the bamboo handles ate up more space than I'd realized. Again, I'm probably not the right demographic here. I've just never been that woman together enough to fly with just a sweet little purse.
Even if the Jonny Bag might not be my air travel soul mate, the good news is that it's a cosmetics case that passes for a purse. It would definitely come in handy for concerts and music festivals.  If I were an NFL kind of girl, I might take it to the stadium, wearing it on my arm as I wait in line for an oversized foam hand or a hot dog combo. The weight and color of the fabric (I have the charming robin's egg blue) seem better suited for warmer weather. I have a feeling I'll be using my Jonny Bag in the days ahead, the sunny and warm ones that I can't see but still believe in.
Photo credits: jonnybag.com