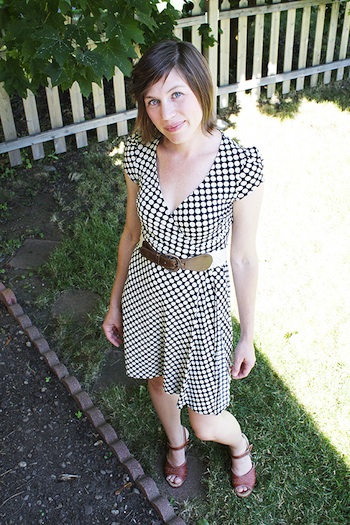 Recently I asked Grace Johnson (above) about the origins of her fashion sense and her delightful shop, Fringe & Fray. It's one of my very favorite stores in Spokane. I stopped in just last week and found a two-tone orange leather skirt that'll bring some cheer to pale winter mornings. (Not that I'm in any hurry for this delightful summer weather to go anywhere. But when it does, my bottom half will be ready).
Be sure to check out Grace's Fall '12 Lookbook for style ideas. And read on as she shares a bit of her story as a stylish small business owner (she also submitted the photos). Here's Grace:
I have owned two businesses and have been working as an entrepreneur since I was a kid, when in the summer I would try to sell my art and strawberry lemonade on the side of the road!
After living in California for 10 years, my husband, two kids, and I moved back to the northwest and decided to open our little resale shop. Fringe & Fray was dreamed up over a few bottles of wine, with some of our best friends, while listening to live music at a little restaurant in Cambria, CA.
At the time, I worked for a friend who had a women's resale shop, and I knew that it was something I would love to do.  We wanted to create a fun, creative, and inspiring shopping experience. We knew that some changes were coming for us, so we thought why not move and start a store in Spokane, WA.  For both myself and my husband Ryan, it was coming home.
Fringe & Fray combines our passions of fashion, home design, and art.  I love the hunt and I love bringing my finds to the public for them to enjoy. There is a treasure for everyone in our little shop. We always hope to have a well curated selection of modern and vintage finds.  I love mixing vintage with modern clothing.  I dress like that, and we decorate our own home that way.
We live in such a time that fashion can be really inventive: mixing patterns, being monochromatic with your color scheme or finding a great vintage brooch and wearing it with your denim vest from high school.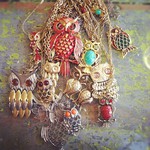 When it comes to finding items for Fringe & Fray, we hit a lot of thrift stores and yard sales and if we are in a town with a good flea market then you will be sure to find me there.  When we travel I can't resist finding something(s) to bring home to the store.
Now that we have a shop of our own, we don't travel as much as we would like to because the day in and day out of having a brick-and-mortar shop is very consuming.
When I do travel, I travel light! I take a couple of my favorite go-to outfits plus some good shoes that I know I can spend the whole day in, and of course my vintage accessories!  This summer we have taken short weekend getaways to Seattle. We will also go camping and hopefully to Montana for a weekend before school starts. And yes, I will come back with something from each trip.
Now if  a unicorn dropped of a bag of money and I had to spend it on myself I would buy boots.  I love boots vintage or new.  I think a great pair of boots can complete any outfit.  I love wearing my cowboy boots with my summer dresses, my Fryes with my skinny jeans and my fringe boots with just about anything to make the outfit a little funkier.
If you ever get the chance to stop by the store please do.  Say hi and take a look around. You might just find something you have to have!