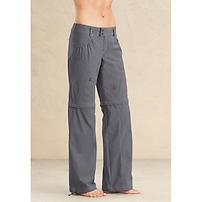 I have hiking on the brain right now. One reason is that I recently hiked with some friends on the Hoodoo Canyon Trail, in Kettle Crest, a couple hours north of my home in Spokane, Washington. (If you do make it up to Kettle Falls, WA, the nearby town, stop at the Northern Ales brewery and pub. If their microbrew menu doesn't impress you, then the eclectic playlist and karaoke meets Margaritaville meets saloon decor will).
One lesson I learned from the Hoodoo outing is that my hiking apparel could use an upgrade. On one hand, I appreciate that the great outdoors is a place where functionality and comfort can trump cuteness. But when I cruise around the interwebs looking for "cute hiking clothes," I do feel a covetous attitude coming on.
For our Hoodoo Canyon hike, I wore knee-length black shorts, with goofy useless buttons, from The Limited (by way of Thrift town), a blue hand-me-down long-sleeved wicking shirt, and, at windy times, a gray v-neck fleece. I didn't quite realize how goofy the proportions were until I saw a picture of myself on my own innocent phone (picture not included in this post, mind you).
A WanderChic fun fact: I don't have a full-length mirror in my house, so often the first time I take a gander at my outfit for the day is when I'm walking into school. Hello, self, I may say, as though greeting a friend. My, you're making interesting choices today. I've thought about leaving a change of clothes in my office, a la Don Draper, which isn't a bad contingency plan in the case of pen leaks, coffee mishaps, a pantyhose misfire, or attacks by errant squirrels. As it is now, I only have my doctoral robe to wear in the event of fashion disaster, and it's kind of hard to pass that off as everyday wear.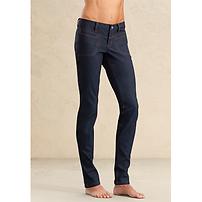 The first photo, of the Chimney Rock convertible pants, is from athleta.com, as are the Skinny Dry Dipper Jeans, above. I borrowed a pair of convertible pants before I visited Costa Rica last January. I liked the lightweight, breathable fabric, but the weather was never hot enough to justify turning the go-go-gadget pants into shorts (though of course I felt I had a hidden superpower). I confess that I really like the look of the skinny jeans that promise to wick away sweat and repel rain. Whether these pants would like me back is the real question. Only a fitting room (or, hey, installing a floor-length mirror in my apartment) will tell the truth.
I'm probably supposed to disclose that my dear brother works for the Gap corporation, which owns Athleta. (Now that I've come clean, I wonder if he can get me a sweet discount. Bubs, are you reading this?)
Another reason I'm thinking about hiking is that I'm finishing up Cheryl Strayed's Wild, which I recommend (cover photo above from wweek.com). Strayed's memoir about hiking the Pacific Crest Trail is smart, funny, self-deprecating, and unflinching in her examination of her own heavy grief and small, vivid joys. Plus, she makes me want to take off for a backpacking adventure. Or at least go to REI. Or drink an ice-cold lemonade Snapple.