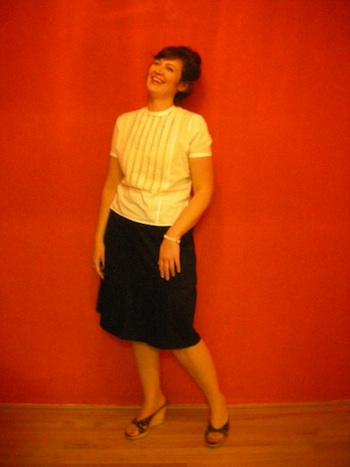 Earlier this year, I was invited to do an author interview for Lisa O'Neill's blog, The Dictionary Project. It was a treat to geek out about the dictionary for an audience of kindred logophiles. Lisa (pictured above; photo by Amanda Sapir) recently chatted with WanderChic about the art of bibliomancy, the joys of Tucson, and the power of turquoise.
Lisa also provided the rest of the photos, including the one above, of her dog Maggie (short for Magnolia) on Mount Lemmon, and a chandelier shop in her native New Orleans.
Lisa O'Neill was born and raised in New Orleans, Louisiana. She thus has weaknesses for brass instruments, linen handkerchiefs, and drinking whiskey on porches. She lives in Tucson, where she writes and teaches writing at The University of Arizona. She has developed curricula for and taught writing workshops with incarcerated students at Tucson detention centers and serves on the board of Casa Libre en la Solana, a literary nonprofit supporting Tucson writers. Her work has most recently been published in defunct, The Fiddleback, drunken boat, and Diagram. Besides New Orleans and Tucson, Lisa has lived in Washington D.C., Rome, and San Francisco. She's planning a trip to Thailand, Nepal, and India next summer. At her blog and literary hub, The Dictionary Project, she writes posts inspired by one dictionary word, selected at random, each week.
WanderChic: Describe The Dictionary Project. How did you come up with the idea?
Lisa O'Neill: The Dictionary Project is an online literary hub rooted in the dictionary and bibliomancy, the practice of divination through books. The project began as a personal blog, where I would close my eyes, run my finger through the dictionary then across a page to choose one word from the dictionary each week. Then, I would write a post inspired in some way by that word. The shape of the project has shifted over the past several years to include other writers but the process is still the same: one bibliomanced word, one week, and one writer. Something magical happens when we are asked to look at words we don't know or to really examine words we think we know. We are forced to question, to be curious, to open up and open out. We find subject matter and stylistic choices and ideas waiting to be born, ideas we didn't even know were in us.
The Dictionary Project came to me very suddenly when I was writing in my journal in August 2009. The idea wasn't there and then it was, that quick. I'm a strong believer in listening intuitively and writing frequently. Oftentimes, my journal is a place for unloading ideas, thoughts, images, but sometimes it is a place where ideas that have been tucked away appear or where new ones arrive. I had thought about starting a blog to have a regular place to write short pieces as I was working on a longer book-length project. However, my blog in the past didn't have any cohesion except that I was authoring the posts and they involved things that interested me. The Dictionary Project, with a very clear restraint and a focus on the origin and meaning of one randomly-selected word, felt grounding. The project felt like a place to land and a place to leap from at once.
WC: What's your favorite word these days?
LO: You know what? I always ask my students this question on the first day of class, and then I usually go with my standby: effervescent. I like effervescent because it sounds like what it means: bubbling over, effusive. I find myself saying the word "totally" often these days. I think in part it's because one of my close friends uses it and that usage has bled out to me and other friends in his inner circle. It's not just the word itself but a certain inflection: tohhhh-tally. I recently heard a story on NPR about function words and how we use them in relationships. The researcher was talking about how you can tell which couples will be most compatible during a speed dating session because these pairs use function words in the same way. This isn't because they have similar speech patterns but because they begin to model each other's speech, they sync up. Totally isn't a function word but I find the way it has become a signifier within a particular group of friends satisfying. I also just love the implications of the word "totally" in conversation. It means: I get what you are saying, I understand completely, I see you.
WC: How would you describe your personal style? (It's recently come to light that we own the same I-Love-Lucy-esque dress from Target circa 2010!).
LO: Yes! I love that dress!
A friend once introduced me at a reading by calling me a modern, feminist Southern bombshell. I love that. That description feels so contradictory and problematic and also true, and it definitely relates to my sense of style. I wouldn't have wanted to live in the '50s or '60s, but my style very much resides there. Maybe not all the time, maybe it's my style's summer home. I love over the top ultra feminine style: A-line dresses, mid-century costume jewelry, silk scarves, tall heels, but I like that style because it feels like a nice balance for other parts of my personality: the sassiness, the smartness, the assertiveness. I feel like I can own that style, or transform it, because I am not saccharine sweet. Does that make sense? I feel like you asked me to write about my style and here I am writing about myself. But self is style, style is self, right?
WC: Definitely. Preach it.
LO: I find most of my clothes at thrift stores—Tucson is amazing for thrifting. When I splurge, I often do so at Ann Taylor (I love their strapless A-line dresses). I just found a great striped sundress at Urban Outfitters on sale for twenty bucks. One of my alltime favorite dresses, a splurge, is this navy and yellow African-print halter dress from Anthropologie.
I like feather earrings. I like getting my hair did. Also, I will buy pretty much anything in the color turquoise. It is my power color.
WC: What do you love about Tucson? What would you recommend to the traveler?
LO: Well, first of all, I would say, come in the spring. Tucson is so beautiful with all the ocotillo and flowers in bloom. Or really, come anytime between October and May. Summer feels like being baked in an oven. Seriously.
I think the best time to be in Tucson is in October for the annual Dia de los Muertos Procession.
Tucson has an incredibly active, supportive, inspiring visual art, literary art, and music scene. I would recommend checking out a reading at Casa Libre en la Solana, a great literary arts nonprofit located downtown, or the University of Arizona Poetry Center, one of the largest archives of poetry in the country. The Center for Creative Photography, on the U of A's campus, was co-founded by Ansel Adams and houses one of the largest archives of his work (not all on display, but you can request to view prints); they have excellent exhibits that rotate every four to six months. The Loft is a great independent movie theater, featuring everything from cutting edge to cult classics. Plush, Congress, and the Rialto have great live music by local and touring musicians. Many of the bartenders at the Surly Wench are also members of the Tucson Roller Derby League.
It's a quick day trip down to Bisbee, an old copper mining town with houses nestled into the mountain. The town is full of cool antique shops, and the locals there love to tell stories.
My favorite thrift stores are the Goodwill on 4th Ave, the Savers on Oracle, Casa de los Ninos, and Speedway Outlet. Tucson has great hiking in Sabino Canyon or up on Mount Lemmon, where it is always about ten degrees cooler. You can reward yourself after hiking on Mount Lemmon with a trip to this little coffeeshop that makes peanut butter cookies the size of your head. The Desert Museum is Tucson's version of a zoo. You can see hummingbirds, javelinas, coyotes, and tons of native plants. Raging Sage has amazing coffee and killer scones. Bookman's is the most comprehensive used bookstore in town, but I also like The Bookstop, which has drawers full of old maps, art prints, and photographs. I have an old black and white photo of Vivien Leigh as Scarlet that I found there framed on my vanity.
WC: Do you have any trips coming up soon?
LO: New Orleans & Detroit. New Orleans is home for me. I was born and raised there, and I try to go back at least twice a year. I'm looking forward to spending some time on Frenchman Street dancing to brass bands and sitting in coffeeshops writing. I missed Jazz Fest this year and it just about killed me. When I think of home, I think of horns and heat. I also think of history—which reminds me of the other place I am going this summer: Detroit. I am attracted to towns that don't hide their history, towns that show where they've been in their cracks and leans, their painting overs with the underneath poking through, their faded signs on old brick. I like a town with decay. It's why I love New Orleans. It's why I'm looking forward to visiting Detroit for the first time. One of my writer friends Aisha Sloan grew up in LA, but her folks have always had a house in Detroit and her extended family is there. I'm looking forward to being shown around the city and to exploring a place I haven't been before.
WC: What are your must-have items when you travel?
LO: I like those magazine pages that show someone's bag dumped out and then configured just so to reveal what they carry with them on a plane. Here's my bag: wallet with ID/cash/debit and credit cards, Moleskine journal, Pilot pen that I have forgotten is there and thus will probably explode in flight, Burt's bees pomegranate lip balm, red lipstick, powder, eyeliner, eye drops, a book and magazine, water bottle, The Pocket Pema Chodron, pouch with jewelry, iphone, earphones, phone charger, laptop, sweater or scarf, hairclip, glasses.
An aside: I love in "The White Album" when Joan Didion lists what she is packing and her list includes a cashmere throw and a typewriter. I aspire to be this classy some day. Maybe without the typewriter, though.
WC: What are you reading these days?
LO: A few months ago, I read The Chronology of Water by Lidia Yuknavitch and it completely blew my mind. Fresh form, fresh writing, fresh way of looking. Right now, I'm reading Yoga for a World out of Balance by Michael Stone, Anthropologies by Beth Alvarado, Blink by Malcolm Gladwell, and books of poetry by Doug Kearney, Duriel Harris, and Julie Carr. Lorraine Duran's "A Film of Our Life Played Backwards," in last fall's issue of Gulf Coast, was the best essay I've read this year.