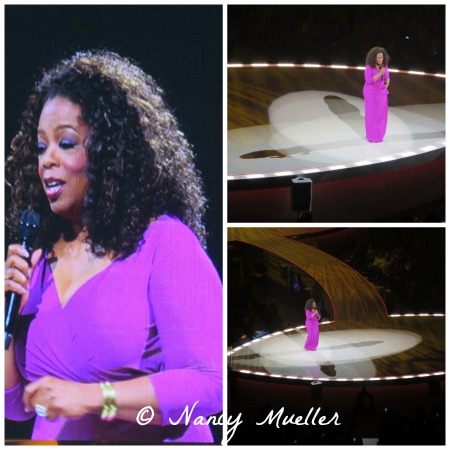 She came. She spoke. She dazzled.
Oprah stopped by Seattle last weekend, nearing the final leg of her "Life You Want Weekend Tour." Her message?
"I want us all to fulfill our greatest potential. To find our calling, and summon the courage to live it."
After a previous day of torrential rain, the Friday kick-off began on a promising note: abundant Seattle sunshine with clear, blue skies, the perfect weather to accompany my tour of O Town, a "pop-up town square" on the lawn of Seattle Center, leading up to the evening's main event.
I intended to check it out, then head back home before returning for Oprah's evening presentation. But I ended up staying the entire day. With such a fun, festive, infectious energy surrounding the event, how could I leave just when the party was getting started – especially knowing I couldn't make it on the second day?
First stop: a photo-op with Oprah's life-size image.
Next up, the pampering tent because we wanderboomers can never have too much pampering, can we?
Then off to another tent to visit with a couple of Oprah's favorite friends, like Gayle King.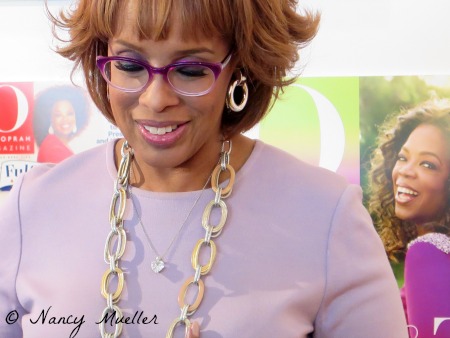 From the outdoor stage I picked up a few fashion tips from O Magazine's Creative Director, Adam Glassman, e.g ways to tie a scarf, what's trending ("Fanny packs are in, but personally I wouldn't do it."), what's classic (turtlenecks) and here to stay (skinny jeans) if you can wear them.
Once we entered Key Arena for Oprah's evening presentation, the music playlist had us all dancing our way to our seats where we each found a gift, courtesy of Starbucks.
All of this before we even had a LIVE Oprah sighting.
Then the O moment had arrived, starting with the sound of Oprah's voice rising in volume and energy from off stage, climaxing with her grand entrance. She brought down the house. In a mesmerizing performance sprinkled with personal anecdotes and humor over the next two hours, Oprah shared her inspirational message with the moms, daughters, aunts and sisters (along with a few brothers) who had come out to greet her. Here's a sampling of what I heard:
You are here to honor your calling.
I am where I am because I listened to my spirit.
Your legacy is every life you've ever touched.
No matter what you've been through, if you are here, it means you have a second chance.
Invictus – "I am the Master of my Fate. I am the Captain of my Soul."
I learned that I could be a better Oprah than I could a pretend Barbara Walters.
I move on when I'm done growing.
We know we are all equal in spirit – but our hair? No.
When you feel not at ease, it's life trying to move you in a new direction.
Everybody has a thread that has led you to the space that you now hold in your life.
Anything that you have, you are supposed to share it in service. Your life is validated in your service to others.
We are all asking, "Am I okay?" We are all looking for validation. We want to know that we matter.
We are all co-creating our lives.
Third Law of Motion in physics: for every action there is a reaction. It doesn't matter if you believe it or not.
You co-create your life with the energy of your Intention. Your Intention rules your life always.
All this time I didn't say no because I didn't want people to think I wasn't nice.
You are responsible for your Intentions.
Your thoughts become what you believe.
Be responsible for the energy you bring into a room – Jill Bolte Taylor
You have power in your energy field. Stop meddling in other people's energy fields.
To have the life you want, you have to choose love.
You must choose the way you think about your life.
Thanks for stopping by Seattle, Oprah! Same time next year?
Wander on!
Nancy
*If you liked this, be sure to check out my previous post on Oprah.
How does Oprah inspire you, wanderboomers? Please share with us here.