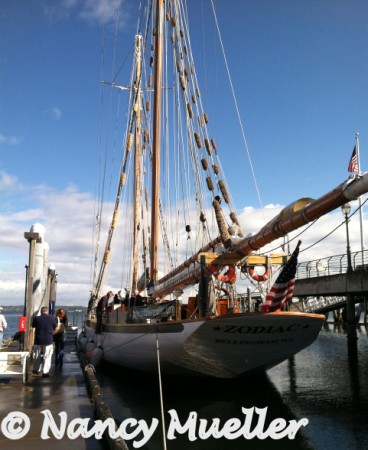 What a beauty! And what a fun day for those of us lucky enough to be aboard the Schooner Zodiac based in Bellingham, Washington.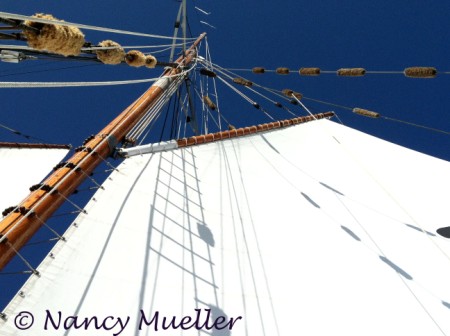 The clouds parted, the sun shone, the water sparkled, the beer and wine flowed – not too much, mind you, just enough to cap off a lovely outing on this classic wooden yacht with the largest working mainsail in North America, supported by a mast over 12 stories tall.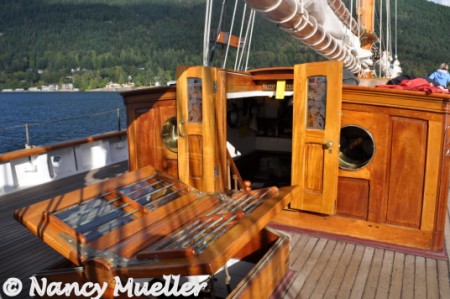 Originally built for the Johnson & Johnson family in 1924, the Schooner Zodiac retired from a 40-year tour of duty in the waters outside the Golden Gate in 1972, then headed to the Pacific Northwest. After her retirement, it took a small village of sailors and shipwrights under the umbrella of the Vessel Zodiac Corporation to restore her former elegance. We should all retire so well.
But all was not play on board the Schooner Zodiac this day. We had to sing for our lunch and dinner, masterfully prepared by cook Ian both in the galley and on deck.
Calls went out to passengers from Captain Tim, Chief Mate Chris and crew member Jeff to go to our sailing stations, man the helm, hoist and fold the 4,000 square-foot mainsail (along with the foresail and staysail),
handle the lines and keep watch on deck.
Oh, yeah, we had it rough all right.
What are you doing for play today, Wanderboomers?