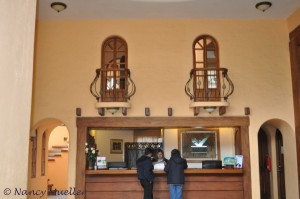 Prior to my arrival, my host had described this health spa and resort as "magical," and "Very romantic and perfect for children."
"Romantic" and "perfect for children" – at the same time? Is that possible? In any case, I was traveling solo on this trip. No romantic getaway or fun family adventure for me this time around.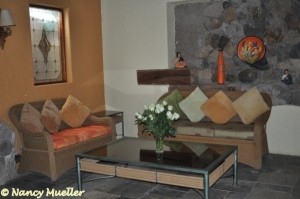 I made plans to stay at the resort for three days and three nights, though my host had cautioned that "The town itself is not a tourist attraction and there are no activities to do around the resort."
Situated at 3,3oo meters (10,800 feet) above sea level, this hot springs haven is protected by 625 acres at the entrance of the Cayambe-Coca Ecological Reserve.
You won't find trendy boutiques or celebrity-sighting sidewalk cafes here, which to my mind sounded like a perfect way to end my two-week journey in Ecuador and the Galapagos Islands.
After all, isn't that what every good travel writer needs? A place of her own to let the sights and sounds of the last eleven days seep deep into her consciousness? A thermal hot springs and spa where her muse would have space to absorb and digest all that she had seen and experienced (not to mention, eaten) along the way?
There was a slight risk that the height and the hot springs might have a hallucinatory effect on my writing, but I was willing to take that chance. If such a sanctuary exists in the Andes, I reasoned, I owed it to my muse to go there.
Thank goodness I did.
Termas Papallacta is a sanctuary of natural beauty framed by the steep-sloped Andes. On a clear day the star attraction is the snow-dusted Antisana volcano that soars 5.704 meters (19,800 feet).
Unfortunately, my July visit coincided with the cold and wet season. I was left to imagine what must be a spectacular view of the volcano above the resort. But the fog that cloaked the surrounding mountaintops created its own mystique, as did the steam rising from the thermal pools into the chilly air.
True to my Seattle roots, I was not about to let a little rain diminish the enjoyment of my visit. My mantra became Rest. Relaxation. Recreation.
When I told one staff member how long I planned to stay at the resort, his eyes widened: "You must really need to relax!"
The majority of guests stay here for three days and two nights, but in the company of family. Families are revered and travel en masse in Ecuador as I witnessed at the thermal baths and in my wanderings throughout the country. I can see now why it might have seemed strange for a woman traveling alone to want to stay longer than a day and a night.
What a far cry, though, from the reaction I've had at home in a country where independence is so highly valued. When told about my two-week solo jaunt to Ecuador, the response has been universal among my women friends : "Do you know how lucky you are?"
Yes, yes, I do.