I awake in the upstairs room of the old teak house to an unknown world. Outside, Laos is bright and alive, but I savor a moment behind the floral red curtains, catching only sounds. Kids laughing and yelling to each other. The whir of the ceiling fan.
"Sabaidee!"
Downstairs I'm greeted by Mr. Somphone, my jovial host here in Luang Prabang, who loves badminton and Lao whiskey. He ushers me to the little table in his modest living room and gestures franticly towards the bundles of fat, freckled bananas. "Please, please, eat many banana!" He fills my water bottle from the reservoir, "drink many water, too, very hot today."
At a rickety coffee stand, I sip a glass of rich Lao coffee as a constant stream of people haul little plastic bags full of coffee for their friends or co-workers – the Lao equivalent to returning to the office with a tray of lattes.
As I make my way around town, I pass vendors selling dried river grass under colorful umbrellas.  Ladies cooking bananas and root vegetables squat before curbside braziers. Laundry flutters like modern-day prayer flags in the breeze. All manner of things are set out to dry in the sun: scarlet chili peppers, handmade paper pressed with delicate flowers, marbled sausages suspended from strings, even a goat's head covered in flies.
Two young monks in saffron robes emerge from an antiquated Buddhist temple, calling out to me, "where you go?" and then smiling and waving brazenly at the blond western woman. An elderly man nods his head in an amused greeting as he pedals by on a rusty bicycle.
The riverbanks are blanketed with tidy rows of green herbs and vegetable gardens.  Fishermen creep along the currents and cast out circular nylon nets as if throwing a giant frisbee. At sundown on the Mekong, boats from the north will slide into port, carrying heavy loads of sweaty backpackers.
Following dripping footprints down a path, I discover local kids – many still in their school uniforms – swarming the banks and splashing into the river, fully clothed. Lao mamas are selling snacks under a tarp; teenagers huddle in flirtatious circles. Boys sliding down a steep, muddy bank crash into the water looking like they are covered in milk chocolate.
The afternoon heat is heavy and stifling, and a hot blanket of lethargy unfolds. Shopkeepers snooze in storefront hammocks and everyone slows to a crawl, seeking respite from the dust and heat.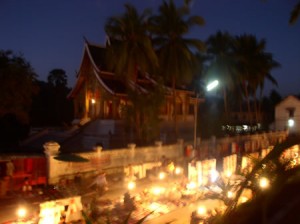 The languorous spell breaks at dusk.  The light shifts to a dusty-rose colour, playing upon Lao faces returning to the streets, filtering through palm trees to bathe the temple facades in a soft, ethereal glow. A soft murmur buzzes in the air as the vendors set out their wares for the night market on the street in front of the palace.
Returning to Mr. Somphone's, I pause to admire the waxing moon, hanging like a fat glob of sticky rice in the dark sky. A little girl approaches and points to the moon. We take turns practicing the word in each others language, punctuated by giggles. I feel completely at home.