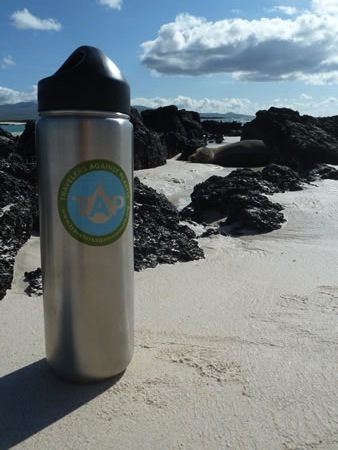 The statistics are mind-boggling: 2.7 million tons of water bottle plastic is used globally each year, and the vast majority of it ends up as litter or in a landfill. According to data released by the U.S. Office of Travel & Tourism Industries, approximately 48.6 million Americans travel internationally each year. Estimating that each traveler takes about a 2 week trip, and consumes an average of 3 bottles of water a day, we are looking at 3.5 billion plastic water bottles used and discarded worldwide by travelers annually.
But the TAP (Travelers Against Plastic) Campaign, which launches today, is seeking to reverse this damaging legacy left by travelers. The campaign, spearheaded by non-profit travel org Crooked Trails and Wildland Adventures, is founded on the basic belief that no traveler wants to leave a trail of plastic water bottles behind them, but many don't know how to avoid it.
TAP hopes to educate travelers and empower them with a very easy solution: carry a reusable water bottle and a method to treat your own drinking water. On the TAP website, travelers learn that treating their own drinking water is cheaper, healthier, and better for the environment and for local communities. They can also learn about
different methods for carrying and treating their own water, such as the recommended combo of a SteriPEN and Klean Kanteen, which can be purchased through the TAP site, and a portion of proceeds will go to support the program.
Armed with this info and resources, TAP is asking travelers to sign the pledge to treat their own water when traveling, and to spread the word via Facebook and Twitter. They're also asking travel organizations to join the movement by signing up to educate outbound travelers about this simple, effective way to lessen their impact.
Learn more about TAP and take the pledge now!
Full disclosure: As a staff member at Crooked Trails, I'm on the team who created the TAP Campaign and have been working on it for several months. I'm feeling a bit like a proud mama today! 😉