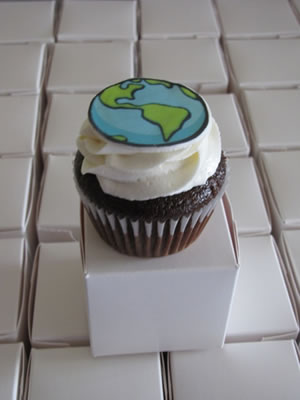 Can a cupcake change the world?
Maybe not on its own, but when four blogging Wonderwomen – (Wanderlust & Lipstick's own Beth, Michelle of Wandermom, Pam of Nerd's Eye View, and Debbie at DeliciousBaby) – get together and exchange ideas over cupcakes and coffee, amazing things happen. Reportedly, that's how they originally baked up the idea for Passports with Purpose, an annual travel bloggers' fundraiser.
Now in it's third year, Passports with Purpose is launching today and you can be a part of it!
Passports with Purpose is a fundraiser that lets travel bloggers rally their collective support for a great cause. This year, PWP is supporting a community of Dalit (Untouchables) in South India through LAFTI International, an award-winning NGO that serves hundreds of impoverished villages in Southeast India. Through donations and generous sponsorships, this year's goal is to raise $50,000 to build homes for 25 families in Karunganni, India. Knowing the PWP completely surpassed the $14,000 goal last year to build a school in Cambodia and raised nearly $30,00 to outfit that school with additional improvements (such as a well for safe drinking water), it's exciting to see how this year's success will further build our collective reach.
Here's how it works:

Bloggers like me procure an awesome prize that will be awarded to a lucky donor. A master list of all the prizes is on the Passports with Purpose website.
After browsing the prize list, make a tax deductible donation to LAFTI, and for every $10 you donate up through December 13th, you get one entry to win the prize of your choice. Get excited about winning and help spread the word! We'll be chatting all about it on Twitter, Facebook and on our blogs. On December 17th, PWP will notify the individual prize winners and Santa will be coming early to some folks.
So what's my prize?
After an amazing stay at the Northern Edge Algonquin a couple months back on their Quest for Balance yoga and kayak retreat, I can't get that place out of my head! I've been blogging all about this amazing eco-lodge, with it's locavore cuisine and finely-crafted off-the-grid experiences, and now I get to invite one person to have their own experience at the Edge.  One lucky Passports with Purpose donor will win a $650 Gift Certificate to any Edge experience!
Guests at the Edge, a solar-powered nature retreat nestled in Ontario's Algonquin Park, learn from inspiring canoe trip adventure guides, wilderness arts teachers, yoga and retreat facilitators. You're invited to nourish yourself, dining on organic & locally raised food, and be inspired by handcrafted surroundings designed in harmony with the forest in the wilds of Ontario, Canada. This is one of those places you'll remember forever and carry as a happy place in the back of your mind. These guys are the real deal – they just won the Ontario Tourism Industry Award of Excellence in Sustainable Tourism.
While their 2011 is still being finalized, you can start dreaming now, because this certificate will be good for ANY 2011 experience at the Edge.
What will you do?
Mush sled dogs across a snowfield in a hushed winterscape?
Perform a sun salutation with the warmth of the morning sun reflected back to you from a glassy lake?
Paddle the pristine waters of a celebrated landscape?
Any of the experiences at the Edge would be a great way to recalibrate and energize for the new year. And to do so knowing you've supported a great cause along the way? That's icing on the cupcake.
A BIG thanks to Todd & Martha Lucier of the Northern Edge for this awesome prize, as well as to all this year's amazing sponsors for their support: BootsnAll, LiveMocha, Round the World with Us, HomeAway, Traveller's Point, Hostelling International, Quintess, Raveable, TravelPost, and Uptake.
Earth cupcake photo by clevercupcakes via Creative Commons