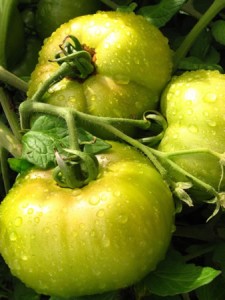 The Northern Edge Algonquin is inspiring – from the ooh's of the tranquil, seemingly hand-painted landscape to the ahh's of the peace you exhale into at one of Wendy Martin's yoga sessions. As I recently waxed poetic about, it's an extraordinary little corner of the world. And then there's the food. The food!
The Edge's chef, Gregor Waters, used to live right on the property in a historic old log home. Now he lives just up the way.
Needless to say, he has a familial awareness of the bounty growing around him. When I commented on the delectable maple syrup he worked into so many of the dishes, his eyes lit up, and he spoke tenderly of tapping the maple trees just yards away from where we were eating and blissfully watching the sap collect each year, like a treasured family tradition.
Greg's approach can easily be described as locavore, which essentially means seeking to source as much of your food as closely as possible. (Fun fact: The word "locavore" was the Oxford American Dictionary's word of the year for 2007!)  When the Edge hosts guests such as the Quest for Balance retreat group I was in, Greg typically won't plan a meal until he's received his farm shares from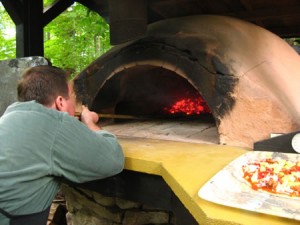 neighboring producers and sourced some local goods like cheeses and breads from the farmer's market. Then, in a flurry of creativity, care and alchemy, he'll create an amazing meal just like that. Wish I had those skills!
On our final night, Greg fired up "Rocky", the outdoor pizza oven he built five years ago. Together, the gals in my retreat group doused the dough he set out for us with homemade tomato sauce, then piled them high with an array of fresh, local toppings.  Served with a tomato zucchini soup and green salad with a creamy herb dressing, the pizzas were irresistible. For the occasion we also shared a delectable 2006 red wine from Viewpoint Winery in Ontario's Essex County, an outstanding winery owned and operated by Edge co-founder Martha Lucier's brothers.
When the pizzas were finished, Greg dumped the hot coals into the fire pit, and we gathered around and told stories while stars blazed over our heads. Gregor left us frosted brownies to snack on (made from scratch, natch), which I munched on in the light of the fire with a warm cup of Algonquin Peace Tea (a locally-produced tea that I was bummed not to find in the markets of Toronto to bring home!). The brownies, like the night, were dark and sweet, and at that moment I had the feeling of being home among the dark silhouettes of the maple trees.
Continue the virtual snacking and feast your eyes on all the bounty at WanderFood Wednesday!