Jay and I recently spent a weekend in Wenatchee — a place we love for its recreational opportunities, great weather and fabulous restaurants. I highly recommend the town for a getaway — it's located conveniently close to Leavenworth, Chelan and Mission Ridge, and has a lot to offer.  This is blog one of two that I will write about the weekend.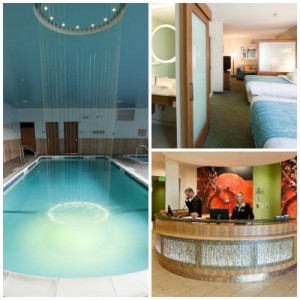 We stayed at the Springhill Suites by Marriott, located on N Wenatchee Avenue, the main street in town. The hotel was built a couple of years ago and has already won TripAdvisor awards. It's got a bright decor with creative wall art and use of space. For example, the suites use opaque glass doors to separate a living area from the bedroom, as well as separating the bath area from the rest of the room; and it's lobby has circular curtains that form soft walls to make intimate space for conversations and dining.
The hotel serves a complete breakfast that is complimentary. Far from "continental," it offers eggs and sausage, waffles, bagels and other pastries, yogurt, oatmeal and dry cereals, fruit, juices and coffee. If you time it right, you won't need lunch after eating there.
But there are many reasons for eating breakfast early and making room for other meals in Wenatchee. There are some really great restaurants in this town! One of those is McGlinn's Public House, located on Orondo Street. It's in the Garland Building, which was built in 1922 and is all brick. Frankly, it's cool. The rectangular space has lots of baseball and other historical paraphernalia on its walls, and seating at various levels. It accommodates a lot of people and was quite noisy when we first got there, but by 8 p.m. on a Friday night is had tamed down quite a bit — I guess that's Wenatchee for you.
McGlinn's serves a wide selection of beer and hard cider, along with other drinks. It's menu has everything on it from really tasty salads to burgers to more formal meals, but the costliest entree is only about $25. (Side note: the prices at restaurants in Wenatchee tend to be 10 to 20 percent less than in Seattle and the food is just as good.) Jay ordered prawns and steak and I got the salmon with garlic smashed potatoes. Definitely delicious! We didn't have room for dessert, but it sounded good. Instead, we filled up on the beer bread McGlinn's is famous for — and for good reason — it has a sweet taste and a texture that is just doughy enough to satisfy anyone's carb cravings, especially smothered in butter.
The other thing we especially love about Wenatchee is Confluence Park and the Apple Capital Recreation Loop Trail, which is great for biking. The 10-mile loop goes right along the Columbia River, crossing it twice on bridges. We had a great time on bikes provided by Arlberg Sports. In addition to circling the trail on them, we rode around town instead of using the car. It makes for a relaxing weekend because once you get off the main street in Wenatchee, the town has a lot of beautiful scenery.
Enjoy!
Elizabeth
Outdoor photos by Elizabeth Griffin.
Springhill Suite photos courtesy of Springhill Suites by Marriott.
McGlinn's photos courtesy of McGlinn's Public House.
This weekend away was courtesy of the Wenatchee Valley Chamber of Commerce.