I attended Taproot Theatre's play, The Matchmaker, this weekend and enjoyed it tremendously. In fact, I laughed harder than I have in a long time.
This is the description Taproot gives of the show: Thornton Wilder's hit comedy about love, money, and the love of money has matchmaking busybody Dolly Levi brokering true love for a wealthy businessman. Will anyone get what their heart desires? Unlikely circumstances and hilarious complications bring surprises at every corner in this play that inspired Hello, Dolly!.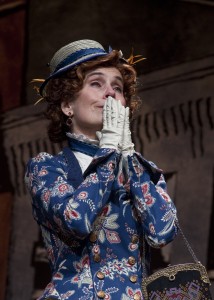 The script in itself is marvelous, and when you add characters played by some of my favorite actors at Taproot, it can't be anything but thoroughly entertaining. Pam Nolte (above) is at her best as the scheming, and equally charming, Dolly Levi. Her Irish brogue is matched by sparkly eyes and a quick wit, which combine with a heart of gold to make her absolutely lovable. Kim Morris, Nolan Palmer, and Bill Johns each play multiple roles, showing their dexterity in comedic character acting. And Robert Gallaher delivers a convincing performance as the curmudgeon, Horace Vandergelder (below).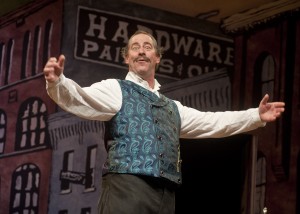 Less known to me on the Taproot stage is Natalie Anne Moe, who plays Mrs. Molloy (below) with enough sparkle and wit to set the house ablaze. She is utterly darling — so fun to watch and so funny! I hope to see more of her in the future. And newcomers Asha Stichter (Minnie Fay- below) and Brad Walker (Barnaby Tucker – below) were also delightful, as was Robert Hinds (Cornelius Hackl)
.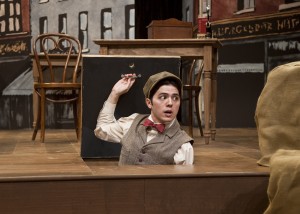 This production offers a light-hearted escape from the cares of life. It will make you laugh — I promise!
The Matchmaker shows through October 19. Taproot Theatre Company is located at 204 North 85th Street in the Greenwood neighborhood of Seattle. Tickets are available online at www.taproottheatre.org/buy-tickets/ and through Taproot Theatre's box office by calling 206.781.9707 or visiting the box office located at the front of the theatre. Tickets range from $20-40, depending on the performance.
All photos by Erik Stuhaug.