There is nothing more appealing than an attentive and knowledgeable host when trying out a new restaurant. While the menu certainly does it's part describing the dishes and flavors, a visit from the chef to add a touch of personality and personal reference to a meal is a welcome classy touch. Chef Joe visited every table while I sat at my corner table with a view and gave each guest the same animated level of enthusiasm from beginning to the end of their meal. Saucebox offers Asian Fusion cuisine in a brightly lit stylish cafe atmosphere. The space was designed by Portland's well known Allied Works Architecture. The bar is spacious and lively, with high ceilings and clean details. The outside cafe seating in front of the restaurant is a lovely place to sit, enjoy a drink and watch the downtown bustle.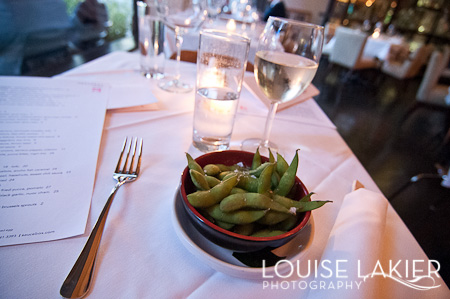 A glass of sauvignon blanc from New Zealand and a bowl of edamame warmed up my taste buds and my appetite. The wine was crisp and cold and a perfect pairing for chilled oysters. The unveiling of the oysters was also classy, presented in a glass bowl on a bed of ice, ringed with purple flowers and a dash of kaffir lime chili sorbet. They were fresh, cold, sweet, and citrusy.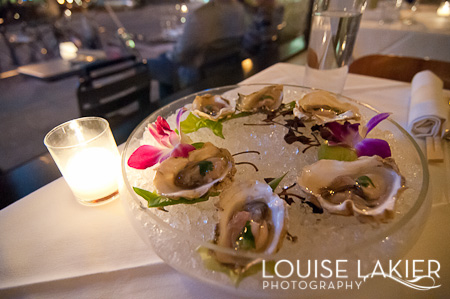 I am a big fan of fermented foods and I can't get enough of kim chee. The kim chee at Saucebox is made with a slightly different twist. Sweet and flavorful pieces of melon with cilantro tasted a little bit sweet and a lot tangy. For my main course I tried the Korean Ribs with white sticky rice, hazelnuts, and cilantro. The Ribs were sweet with a tangy spice, and the pickled cucumbers were nice.
Sorbet was the perfect finish to a meal full of zest and tang and bright flavors. The sorbet is all made in house. I tried four different kinds, lychee, blueberry shiso, apple miso, and jackfruit. The blueberry shiso is made with muddled mint and is a bit tart. The apple miso tasted like caramel apple pie and is rich. The lychee was my favorite and tasted sweet and real. The jackfruit is an acquired taste, fruity and powerful.
The tea presentation was elegant with a pretty clay pot, cup and a selection of Smith Teas. The menu also offers a selection of gluten-free dishes. I look forward to visiting Portland again soon and trying some more of these healthful, vibrant dishes created for our enjoyment by Chef Alex.