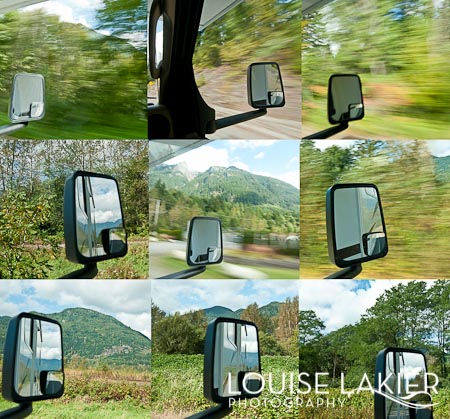 Have you ever traveled in an Recreational Vehicle? It was a first for me. Come along on my adventure as I recap my tour of the Coast Mountain Circle Route provided to me by Vancouver, Coast to Mountain Tourism. Have a sit and grab a cup of tea because there were many intriguing stops and loads of beautiful scenery.
I took the train up to Vancouver, BC from Seattle. If you haven't taken the train up the coast I highly recommend it. It is slow and leisurely and at present there is no Wifi but if you are lucky like me, you might find yourself sitting next to an engaging traveler and share stories while enjoying the views of the coast.
The first stop on my journey was a place to rest for the evening. The Burrard Hotel on Burrard St and Davie is a retro, hip boutique hotel. I love their website and their marketing campaign. Colorful postcards were laid out on my bed with attention grabbing photography and information on all their amenities. I took advantage of the free gym passes, and their ideal location for a walk to Granville Island. They also offer bikes and perfect in room work stations.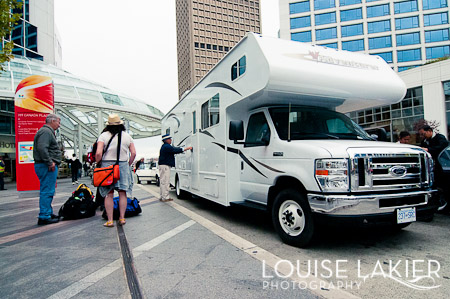 Our reliable steed and trusted driver Ted awaited our arrival at Canada Place. We convened and our journey began in a new RV provided to us by Fraserway RV. Our steed was fully equipped with pots and pans, dishes, a bedroom, bath and sleeping loft. I was excited to explore BC beyond the road to Whistler, a favorite road trip for me over the years. We headed up the Sea to Sky highway to Nairn Falls Park and on to Pemberton from there.
Nairn Falls Provincial Park is stunning. We took a short hike through Cedars, Hemlocks, and Flowering Dogwoods along Nairn Falls Trail. I kept my eyes peeled in the hopes of seeing a rubber boa constrictor, one of the most cold tolerant snake species. Nairn Falls Park sits along the Green River that is actually vivid blue upon reaching the falls. The leaves had just started changing and the colors were mesmerizing.
We took a tour of the campgrounds offering 94 campsites for tent or vehicle overnight stays. If you are a runner, hiker or mountain biker you can catch the newest section of the Sea To Sky Trail here.
We stayed at the Pemberton Valley Lodge, a resort hotel with an outdoor lap pool in a very majestic setting, and dined at the Mile One Eating House where we had our first introduction to the Pemberton Potato, the main ingredient in locally made Schramm Vodka from the Pemberton Distillery. It was a burger no bun for me and my gluten allergy but I left well fed on sweet perfectly baked and seasoned potatoes and I heard more than once from my table mates, the macaroni and cheese is crazy good. Locally sourced food is a passion in this friendly eatery.
The map behind our table was popular amongst guests either planning their next days adventures or seeing a two dimensional record of the ground they had covered. Mile One was named with intention as the start or end of one's journey in Pemberton's extensive outdoor adventuring playground.
Breakfast is mandatory when your next stop is a distillery. Mount Currie Coffee Company was our spot. I was mad about the artwork and hungry for my buckwheat rice flax strawberry banana muffin. The owner Chris Ankeny joined us for coffee. Chris and his wife Lisa, moved to Pemberton after traveling through Costa Rica. They saw a need for specialty coffee in the area, love the outdoor lifestyle here, and the Coffee Company came to be.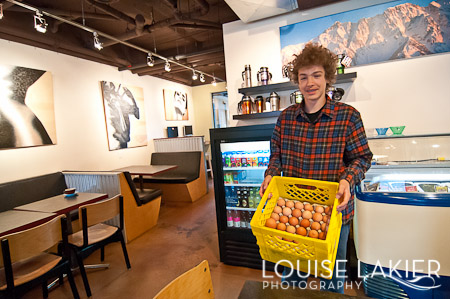 Breakfast burritos, baked goods, fresh salads and sandwiches are made with locally sourced fresh ingredients. Vendors bring them the best of what is in season. They make their own salsa and roast turkey and Pemberton beef in house. There is free wifi here and gelato for dessert.
The Pemberton Distillery is akin to a candy store if you like spirits and shiny German built machinery. We tasted the vodka made from disease free seed grown Pemberton potatoes and glacial waters. The vodka is very palatable and has an earthy taste. Schramm Vodka is the only certified potato spirit. It takes 15 lbs of potatoes to make one bottle and two weeks to produce. Their annual yield is 4000 bottles. It is available online to customers in the US.
The potatoes and hops are grown locally on the Schramm family farm. Tyler Schramm and his wife Lorien operate the distillery. They also offer Schramm Gin made with juniper berries, potato vodka, coriander, orange peel and hops. They are open for tastings during the winter months on Fridays and Saturdays. Don't miss this stop.
On the road again we headed to Seton Lake for a short hike and a picnic lunch. Then continued North along the 99 to Lillooet.  Here we turned South along Hwy 12 to Lytton and continued 54K South along the Trans Canada Hwy to visit the Hells Gate Airtram. After beautiful machinery came feats of engineering. I was delighted.
Hell's Gate Airtram takes you down to the edge of the Fraser River into Hell's Gate named by explorer Simon Fraser in 1808, "A place where no human being should venture, for surely we have entered the gates of hell." Here 200 gallons of water per minute rush through a 100 foot wide passage, twice the volume of Niagara Falls at high water. To get past Hell's Gate, Simon Fraser and his men portaged their canoes up canyon walls and walked hugging the cliff walls along trestles suspended from above by the natives. Illustrations and historical photographs can be viewed in the Education Center upon reaching the lower terminal.
In  1913, a rock slide was triggered while workers blasted through the canyon forging the route for the Canada National Railway blocking the narrow passage even more. The impacts to the main source of food for the natives was devastating. The bottleneck prevented the sockeye salmon from migrating and many died. Natives would lift them up and carry them downstream in nets and eventually built a flume. In 1917, the International Fisheries Commission was formed by Canada and the United States to preserve the fish runs. The Hell's Gate Fish Runs were built in 1945 flanking the river as seen in the image above. Tunnels with calmer waters were created for the salmon to continue on their journey. The success rate can be seen here. Feats of engineering and easier travels for the fish. Happiness.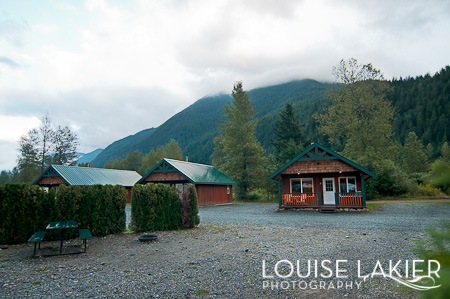 We continued on to Hope famously known as the filming location for Rambo. Our accommodations for the evening were spacious Cabins provided by Sunshine RV Resort & Cabins. The park is the newest and largest of the 9 parks owned by Holiday Trails and boasts a new Recreation Center, 110 hook-up sites, 10 deluxe cabins and 150 miles of trails to play on. The area was formerly a Japanese Internship Camp housing 2400 people during WWII. In the city of Hope there is a Memorial Park and Friendship Garden in memory of the camp and its residents.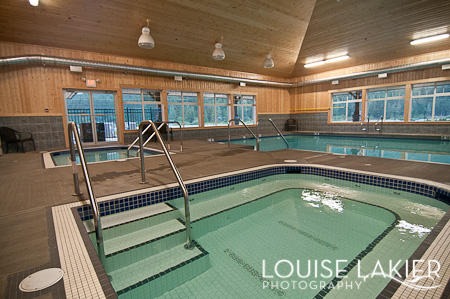 The Recreation Center includes an outdoor pool and hot tub and indoor pools as seen above. They looked rather inviting on what was a chilly rainy evening.
In the morning, we headed North from Hope on Hwy 5 to tour the Othello Tunnels in Coquihalla Canyon.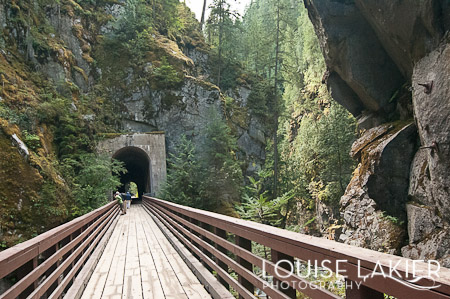 The tunnels were built in the 1900's by the Canadian Railroad over three mountain ranges to link the Kootenay Region with the BC coast. The views from the bridges are rugged and magnificent.
After our hike, we headed South back to Hope and onward to Harrison Hot Springs, our final destination. Harrison is known as the home of the Sasquatch and on my next visit here, I plan to take this tour.
Our agenda for the afternoon included, bicycles, hazelnuts and cheese. We rented bikes from Jamie's Quadricycle and headed off on a mini circle farm tour. Our first stop: Canadian Hazelnut. The hazelnut trees are gorgeous! The 8000 trees on this farm were planted in 1981. For every 100 trees there is a pollinator tree called the butler. It takes 5-7 years for a tree to mature and at the end of a fruitful summer they yield 1-5 hazelnuts in a pod. The nuts can last up to two years in the shell after they are washed and dried.  About 6000# are shipped to the US. Sadly there is a hazelnut blight killing off the trees. It is an airborne fungus spore causing the trees to stop producing. Dogs, bears, and squirrels eat their share of the nuts. Bears can eat up to 600#! The hazelnut products sold here include a chocolate spread that puts nutella to shame, hazelnut flour, vege burgers, and ice-cream.
Another highlight on the trip: The Cheese Lady. If you think you know your cheeses, think again. Debra Amrein-Boyes is the proprietor and head cheese maker at Farm House Natural Cheeses. Debra was inducted into the French Cheese Guild for her passion and dedication to the tradition of cheese making. The animals at this farm are treated individually with unique diets catered to their needs, enabling them to produce the healthiest and most flavorful milk. Debra raises Swiss Brown, Guernsey Cows and Goats. She believes that what comes from the earth is good and does not need to be modified. A guarantee for a healthy product in my book. We were treated to a tasting of a variety of cheeses that were all equally delicious. This shoppe alone is worth the trip.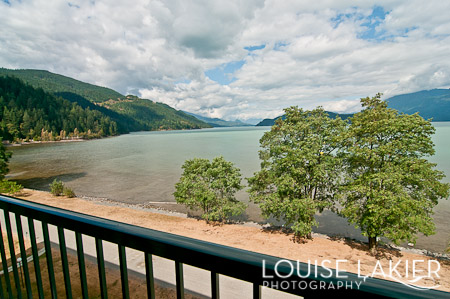 The view from my room onto Harrison Lake. Next stop, the Hot Springs before dinner. Five mineral pools sourced from the lake awaited me. Then it was dinner at the Copper Room, a comfortable nights rest, and a return trip back to Vancouver in the morning. It was a road trip filled with incredible scenery, proud and passionate business owners, healthy, organic, natural food, and lots of history.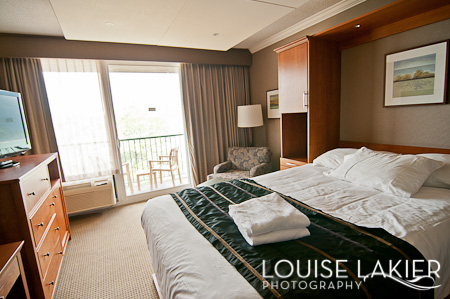 If you travel this route in an RV, I recommend calling shotgun! While RV tripping is a fantastic way to sit around a table and chat along the way, it is a little harder to take in the scenery from the back. I hope you have the opportunity to experience the views and the places listed above in person. Fall is a lovely time to visit this region!
A sincere thank-you to Tourism British Columbia, Vancouver, Coast and Mountains Tourism Region, Andrea Visscher of VCMBC, British Columbia Lodging and Campgrounds Association, Andrea Wickham-Foxwell of Camping and RVing BC Coaliton and all the gratuitous and hospitable business owners, park managers, vendors, and tour operators along the way.