I've always heard that if you want to learn how to drive, start with a tractor. This is exactly what my daughter and I did on our recent family trip to Jenne Farm on Whidbey Island. Farmer Fran hitched up his rig and with Mama there to get things rolling, off we went down the lane to the open fields surrounding the farm. That's when I took my hands off the wheel and let her take over.
There were a lot of distractions like Dada, running through the tall grass, taking photos, cows in the field. And, well…there was a loud horn. I think she was more enamored with the beeping than the driving, but all in all, I know she had a blast because she's been talking about it ever since. As for me, I'm counting down the years before she can get her driver's permit.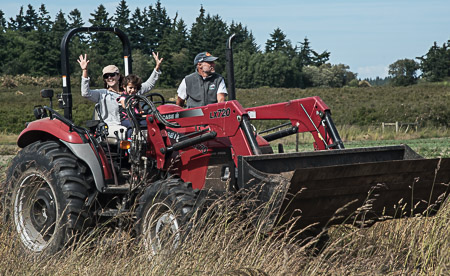 That's the great thing about a tractor. You can't really hear the phone ring.
– Jeff Foxworthy
And if you want to read more about all things Pampers, follow me on Facebook, Twitter or RSS/email.
Take the road less traveled, Beth