Hello summer! Earlier this week, we had a lovely dinner with a risotto recipe I invented. Our petit pois (French green peas) were ready for picking, morel mushrooms were at the market, lemon verbena and spearmint were happily growing in our herb beds and, well, there was that bottle of limoncello.
Most of the time, when I make risotto, I finish with 1/4 cup of dry sherry, but for this recipe I decided to add limoncello as a complement to the Lemon Verbena from my garden. I will say straight up: I am generally not a sweet drink person but I love Limoncello, especially over ice with a spritz of my local fav, DRY Lavender Soda. I have tried several Limoncellos over the years and Letterpress Limoncello is the bomb! Seriously, this is the best Limoncello I've ever tasted. Zingy lemon, not cloyingly sweet–Letterpress uses Washington Blackberry honey instead of simple syrup–no artificial colors. And…made in Seattle. Plus, I am a sucker for their label. I've always had a soft-spot for letterpress printing.
Pea and morel risotto recipe with herbs and lemoncello
Ingredients
Note: I notoriously cook without measuring, so the measurements here are approximate. I am of the if-you-like-more peas/mint/limoncello, use more peas/mint/limoncello school.

1/2 cup sweet peas (I used Petit Pois, a French sweet pea), shelled
3/4 cup Morel mushrooms, depending on size, sliced
1 cup Arborio rice (if you can find carnaroli, vialone or another Italian "risotto" rice, you can use those as well)
2 tablespoons olive oil or cooking oil
1 quart (4 cups) Chicken or vegetable broth
2 tablespoons Mint (spearmint), finely minced
2 tablespoons Lemon Verbena, finely minced
 2 tablespoons fresh squeezed lemon juice
14/ cup Limoncello (Letterpress Limoncello I love you!)
1/4-1/2 cup Parmesan cheese (I used grated Parmigiano Reggiano Mitica and shaved Belgioioso)
How to:
Simmer broth in a sauce pan. In a separate pan (Dutch oven or similar) heat oil over medium heat and add risotto. I personally like to cook mine over dry heat until it starts to brown and crackle a bit, but you don't need to. Add 1/2 cup of the broth, stirring frequently, until all the broth is absorbed. Repeat, adding 1/2 cup of broth until the 4 cups are nearly gone and your risotto is creamy and soft (but with a bit of tooth to it). This will take about 20-30 minutes.
Add peas, morel mushrooms and lemoncello and cook until the lemoncello is absorbed (another 5 minutes). Turn off the heat, add the mint, lemon verbena and 1/4 cup grated Parmigiano Reggiano), fresh lemon juice. Stir, cover and let the risotto sit for five minutes. Serve risotto in bowls (my personal preference) and top with shaved Parmesan.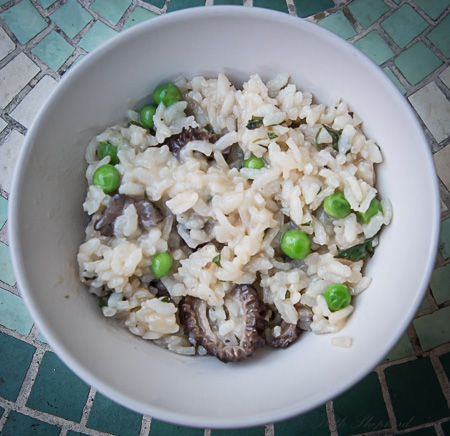 This risotto was one of those: Oh-my-god-this-is-so-amazing-I-simply-cannot-stop-eating it recipes. I made myself a limoncello and lavender soda cocktail to go along with our risotto, sat with my sweetheart on our deck looking out over our garden, enjoying a lovely Seattle summer evening. It doesn't get much better!
And if you want to read more about all things Pampers, follow me on Facebook, Twitter or RSS/email.
Take the road less traveled, Beth