There are no ordinary cats
~Colette
Yes, this is another post about my cat, Maggie. She turned 20 last week which meant a celebration was in order. Her longevity–and my love for her–got me thinking about cats (and dogs, fish, hamsters…) in the U.S. versus other countries around the world. That my sweet girl made it to 20 is in part due to the luck of genetics, but I am also certain the extent to which we pamper our pets in the U.S. goes a long way towards keeping them healthy and happy.
When I travel, I am conscious of the fact that some countries are pet friendly while others are not. When I've visited Amsterdam, cats are everywhere, on the street (but not looking homeless), and hanging out in windows. However, when I've visited Armenia, I mostly see feral cats and packs of wild dogs. On rare occasions I've seen a pet dog out for a walk on a leash.
I did a little research on the prevalence of pets, especially cats and dogs, around the globe, and was surprised to learn that China ranks number two, after the U.S. for the country with the most pet cats. I was equally surprised (shocked, actually) to discover that the Swiss–who do rank high in pet ownership–are under a lot of pressure to stop eating cats and dogs. I must tell Maggie to take the Swiss alps off her travel bucket list. Even in the U.S., some states have more "cat people" whereas other states have more "dog people." Apparently the west coast leans in the cat direction.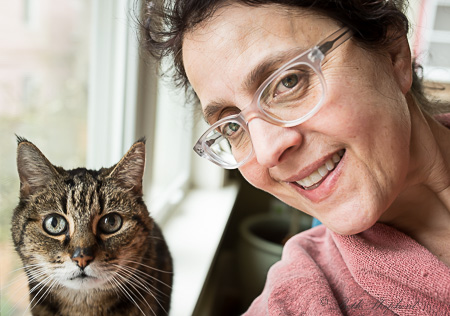 For countries saddled with economic challenges, pets are an additional burden–another mouth to feed. Having pets who can live out a life of leisure is most definitely an indication of wealth and prosperity.
Right now, as I look into our yard, I see Maggie sitting in the garden under the espalier apple trees, licking her paws. Bliss. Earlier today, she was snoozing beside the tomato plants.
Every day she's still with us, I say a little thank you to Bastet, the cat goddess. I'm grateful I live in a country where we have both the desire and the means to share our homes with our beloved pets.
Happy Birthday old gal!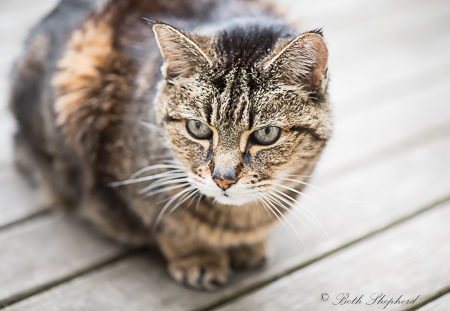 And if you want to read more about all things Pampers, follow me on Facebook, Twitter or RSS/email.
Take the road less traveled, Beth