Wine, food, music, sun, and salt-water breeze. What's not to like? Six years running, the Kitsap Wine Festival has proffered sips and nibbles alongside the Bremerton waterfront at the Harborside Fountain Park, literally a stone's throw away from the Bremerton ferry dock.

Copper fountains, modeled after submarines, spouted water amidst lovely gardens overlooking Puget Sound. Festival-goers sampled wine and beer from over forty northwest wineries and breweries, along with tastes of food from local restaurants and purveyors.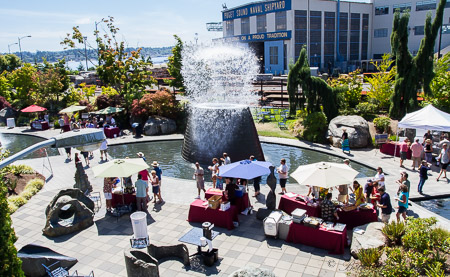 We savored iridescent Bella Bella macaroons, beet salad, tapas, and a lovely array of cheeses. All tasty partners for belle of the ball –wine.
A few wineries we've been to, and enjoyed, were at the festival: Chandler Reach, Terra Blanca, and Forgeron Cellars (though sad to hear the news that Salsa, our favorite wine dog, had recently passed away). And we discovered new favorites like Laurelhurst Cellars, and Maryhill Winery, winner of the 2014 Winery of the Year at the San Francisco International Wine Competition.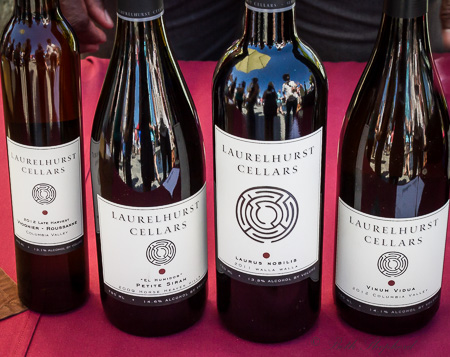 Our own prize, for the most innovative grape varietal, goes to the Black Moosecat (okay, really Black Muscat) used in Stina's Cellars Rebus Red. Our cat Maggie goes by the nickname 'Moose' and, on occasion, we call her Moosecat.

We drank. We ate. We looked and listened. And then we purchased. A few choice bottles, selected at the wine and retail shop on site, accompanied us as we made our way back across Puget Sound.
Hanging out at the Kitsap Wine Festival was a delicious way to while away an afternoon, but the best part–all proceeds went to a good cause: Harrison Medical Center Foundation. I'll drink to that.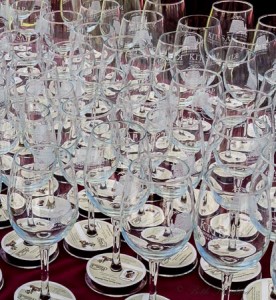 Take the road less traveled, Beth