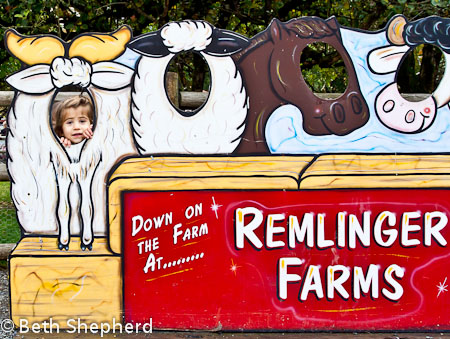 Carousel, ferris wheel, hay maze, animals to pet…and a birthday party with LOTS of sugar. That's how Baby Bird and I spent this past Saturday during our visit to Remlinger Farms in Carnation, Washington.
I knew Remlinger Farms as a U-Pick haven: strawberries, blueberries and raspberries in the summer and pumpkins in the fall. What I didn't know is that their Country Fair Fun Park has over 25 rides and attractions geared especially for children.
Here's what little ones can choose from:
Swing Carousel: painted ponies go round and round
Hay Maze: get lost and jump in bales of hay
Ferris Wheel: kid-sized carts go around in a circle
Farm Theater with Eric Ode: songwriter, author, and poet
Farm Theater with Cyndi Soup: singer, songwriter, story teller and puppeteer
Flying Pumpkin Rides: flying pumpkins with bob up and down
Canoe River: kids float their own canoes on the river
Barrel Ride: each barrel spins, while all the barrels go round and round
Pedal Cars: pedal car track, with twists and turns, and a bridge high above the track
Tolt River Railroad Steam Train Ride: a half-sized steam train that takes you along the Tolt River and around Remlinger Farms property and past 4-H animal enclosures
Remlinger Farms Roller Coaster: a deluxe kid size roller coaster
4-H Animal Barnyard: goats, horses, piggies, cows, alpaca, sheep, bunnies, donkeys
Farm Pony Trail Ride: little ones can be led through the scenic pony "trail ride" area
Antique Car & Country Driving Adventure: kids drive real  miniature Ford Model T cars (circa 1900 and created for the 1962 Seattle World's Fair) antique cars around a safe, railed track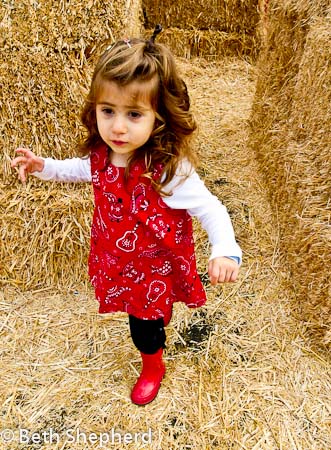 And if that's not enough to fill up a day (or an entire weekend!), there are also private rooms that can be rented for parties and events, which is why we were there in the first place–to celebrate the birthday of one of Baby Bird's favorite toddler partners in crime. Pizza, party cake, ice cream, soft drinks, balloons, party favor bags, hats…all of it was included for a gaggle of excited kids.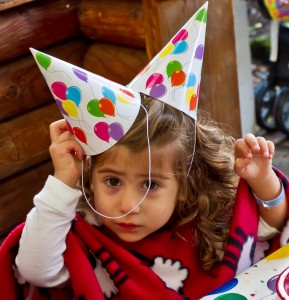 As a mom to a child who doesn't get a lot of sugary snacks, let me just say that shortly after the cake and [two!] cups of ice cream were consumed–well, that's when the party really got started. This was my first experience with a room full of children hopped-up on sugar. Stand back! The rest of our time at Remlinger Farms was high-octane.
We raced around from activity to activity until we [the parents at least] were ready to crash. And then, with a belly full of food and memories of a fun morning spent at Remlinger Farms, we headed home.
Take the road less traveled, Beth