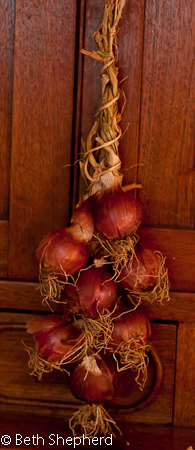 Life is like an onion. You peel it off one layer at a time, and sometimes you weep.
~Carl Sandburg
Tears of gratitude rolled down my cheek when, last week, I came home to find a strand of braided  red-wing onions hanging from my front door. Thank you Rand and One Leaf Farm: thank you for the onions, for your kindness, and for your friendship.
A few tears rolled down my cheeks as I sliced these purple beauties and readied them for their next adventure: Rustic Onion Tart. I've caramelized onions before but this is my first attempt at featuring them as the headliner in a tart. If you've got the time, making crust from scratch, is a fine (and tasty) way to go. Caramelizing onions also takes a bit of patience too, but offers delicious rewards. And if you decide to take the easy road and purchase a pie crust, I promise not to tell a soul.
This is one delicious tart. Glass of rose, sitting on the deck, sunshine on our shoulders. You'd almost think it was finally summer in Seattle.
Rustic Onion Tart
Serves 4.
Ingredients
1 Pâte Brisée (tart dough) for one 10-inch tart or 1 packaged, pie crust (Trader Joe's has them in their frozen section, two rolled up that you thaw and unroll)
3 medium sized red onions
2 Tbsp olive oil
1 Tbsp butter
Salt
1 teaspoon balsamic vinegar
3/4 cup (not packed) roughly grated Gruyère Swiss cheese (I used Emmental)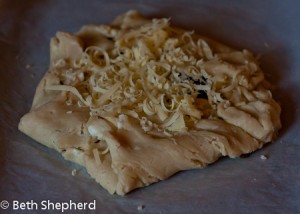 How to
If you are making a crust from scratch, prepare the dough and let it chill in the refrigerator while you are cooking the onions.
Peel and slice the onions.
Heat olive oil and butter in a large, heavy-bottomed sauté pan on medium heat. Once the butter has melted, add the onions and sprinkle a little salt over them. Cook onions, stirring occasionally, for 10 minutes, until onions have softened and are translucent. Reduce heat to medium low and cook for an additional 40 minutes, stirring occasionally, until the onions are well browned. Add balsamic vinegar and cook for 10 minutes more, until onions are completely caramelized. Remove from heat.
Preheat the oven to 450°F. Remove the dough from the refrigerator and let stand for 5 minutes before rolling it out. Roll out the dough on a lightly floured surface to a 10-inch diameter. Remove the crust dough to a cookie sheet lined with parchment paper.
Place all but a couple tablespoons of the cheese in the center of the dough. Spread to within 1 1/2 inches from the edges. Add the caramelized onions, layering them on top of the cheese. Fold the edges of the crust dough over so that a small circle of onion is still showing in the centre of the tart. Sprinkle the remaining cheese over the top of the tart.
Place in the oven on the middle rack. Bake for 10 minutes at 450°F. Reduce the heat to 350°F and bake for an additional 20-25 minutes, until the crust is golden brown. Remove from oven and let sit for 10 minutes before serving.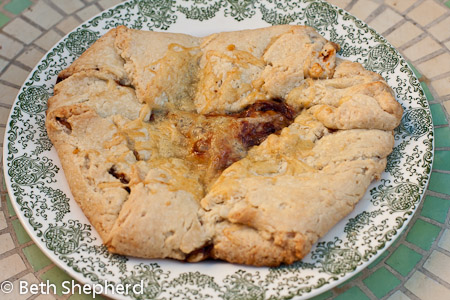 Want to weep at more deliciousness? Check out Wanderfood Wednesday!