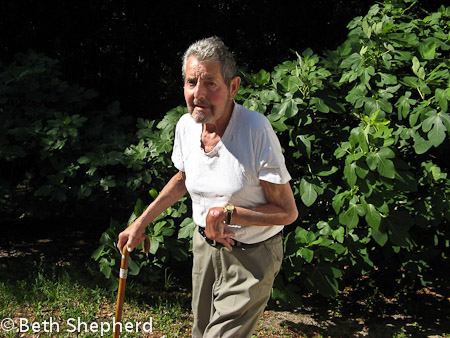 "Someone took one of my figs, Bethy," my father pined, last summer while he was still alive.
"How do you know, Dad?"
"I counted them. There were seven figs and now there are six."
"Dad, why would someone take one of your figs?"
"Just to mess with me."
My father loved figs, his figs, the figs he grew. Seven years ago, when Big Papa and I moved my father from Ocala, Florida to Seattle, Washington, there wasn't much I felt bad about leaving behind, except my Dad's beloved fig trees. There were several he planted behind his place at On Top of the World, a retirement community: brown turkey figs, green Calimyrna, and even one Italian variety brought over from Italy and bequeathed to my father by one of his neighbors.
He was so proud of those trees. Each year, during the fourteen years he lived in Florida, they grew and produced more and more figs. My father would eat some of the figs fresh off the try and then try to dehydrate and preserve the rest.
I remember the year he tried to send figs to me via the postal service. I received a box and opened it to face a pile of fig mush. I cringed as I phoned my Dad to tell him about the tragedy. A few weeks later another box arrived. Inside this box was an egg carton and inside the egg carton he'd carefully cradled one fig in each of the twelve egg nests and then covered them lightly with Styrofoam peanuts. This time the mashed figs were mixed with pieces of Styrofoam. I told him that, sadly, fresh figs don't travel well across the country.
The dehydration projects also met with mixed success and when Big Papa and went back to Florida, a month after moving my father to Seattle, and cleaned out his townhome, there were a lot of jars in the kitchen filled with dried figs in various stages of…um, decline.
I cried when I thought about him leaving those trees behind. He'd babied and nurtured them for over a decade. My Dad loved the trees he planted in the places he lived, like the line of pine trees at the house where I grew up in Fayetteville, New York. These fig trees were no different.
So one of the first things I bought my father as a "house" warming gift was a fig tree.  I did a lot of research and landed on a German variety of fig called a Violetta, a hardy tree said to withstand winters where the temperature dropped a shade below zero, a tree that supposed produced enormous, luscious figs, sometimes nearly four inches in length.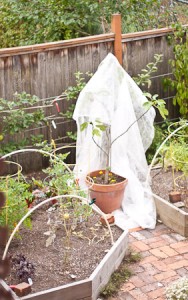 When I told my father about this, he was amazed.
"I've never seen a fig that large. Four inches! Can you imagine?"
"Well, we don't have one yet, Dad."
Each year we waited with anticipation. Each year we hoped. And each year we were sorely disappointed.  Dad's tree produced lots of bright green baby figs over the years, which either fell from its branches early spring or turned brown and rotted away over the winter. Seattle's maritime climate is nothing like Florida, and I wondered if we'd ever get a ripe fig.
I babied our fig tree, which still resides in a large pot, placing it beside our house in the winter to protect it from the cold and wind. I even bought it a companion fig tree which sits a few feet away.
Five years later, we have one nearly ripe fig. I can hardly believe it: a fig from our fig tree.
I've been watching it carefully, "like a hawk" as my father would say. This week, when our resident squirrel showed some interest in our ripening fig, I carefully shrouded its branches in landscaping fabric, to protect it. No one is going to steal our fig…not if I can help it.
I water it and whisper: Grow little fig. Grow big so we can eat you. Oh the irony.
Any day now, we're going to enjoy the first ripe fig from our tree. I wish my father could be here to savor the moment with us. I know he'd say the tree is a survivor, like him, having made it through a year on a deck at one assisted living facility, our back yard, then the back deck of the adult family home where my father spent his final years, and now—once again—in our backyard.
Like my father, I love figs. In my opinion, they are one of the world's most luscious fruits. And I've seen a lot of figs in my life. But none of them meant as much to me as this one.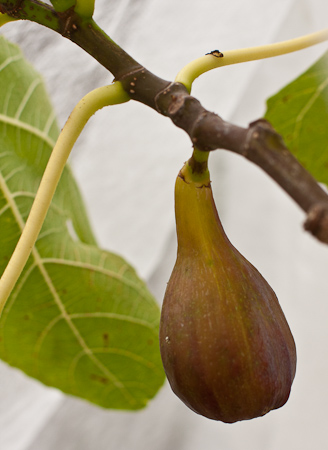 Want to bite into more lusciousness? Check out Wanderfood Wednesday!