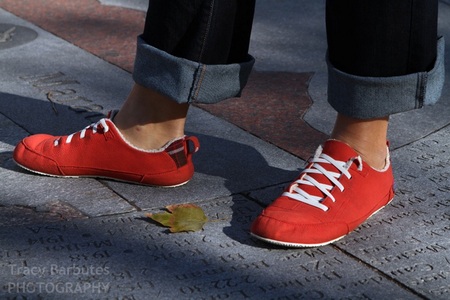 If you've been reading my posts for a while, you'll know that there are two kinds of shoes I almost always wear: sandals and sneakers. I avoid heels like the plague. I just haven't found many shoes that I think are the three c's: cute, comfy and can pack well (snicker).
I've been wearing Patagonia clothes for a long time, but have never tried out their shoes until now. I've been testing out their  Patagonia Advocate Lace ($75) for a few months now, wearing them in Seattle, in Switzerland and Boston. Chances are if we met up, you saw me wearing them, and you commented on how cute they were. Cute and comfy I must say 🙂
The shoes are easy to slip on, with a rear loop to help pull them on and laces that don't need to be tied. Though there isn't much support in the shoes, not enough to wear for a serious walking exploration of the city, there's enough to get me through the day. I find them perfect for wearing around the city to the farmer's market, lounging at home in the afternoon, and wearing post visit to  the rock climbing gym. The grip is solid as well on the bottom, though I don't wear them in the rain because of their polyester material. Unfortunately living in the Pacific Northwest this means I haven't rocked them in about a week. I opted for Red Delicious, a bright red, which really pops, but can get dirty easily.
They travel most excellently, scrunching down to almost nothing and weighing just about the same (4.7 oz). With a wide arch and full toe box, the size fit my 9 1/2 feet well with ample space in the toes but secure on the foot. The shoes, lined with microfiber, made me think I was wearing brighter mocassins designed for the 21st century.
I chose to wear the Advocate Laces without socks, which was fine, but after a while they did get a smelly foot funk. I washed them and am happy to report the foot funk is gone.
Pros: Comfortable and easy to slip on.
Cons: Not much foot or arch support.
Photo taken by Tracy Barbutes.