It's that time of year again!
Drumroll please… it's time for Passports with Purpose's annual fundraiser!
Started in 2008, Passports with Purpose is an organization aimed at giving back to the places where we travel. Formed by a group of gals in the travel blogger community (including our very own Beth Whitman), they decided to put out a call to their fellow bloggers and writers to get together for a good cause. The first year they raised $7,400 for Heifer International. Last year, they raised $90,000 and built two libraries in Zambia with their partnership with Room to Read.
This year, they're aiming to raise $100,000 to build wells in two rural communities in Haiti with the partnership of water.org.
How do they plan to raise the money? Easy! Here's how it works. You click HERE to go to the Passports with Purpose website, which lists lots of REALLY COOL prizes that travelbloggers have worked to get donated. A $10 tax deductible donation gives you one entry to win the prize of your choice from the list on their website. Every $10 you donate, you get one more opportunity to win a prize of your choice. You can bid NOW (!), up until December 11th.
So, what's my prize that you could win?
A 6-Day White Water Rafting Trip for Two on the Colorado River through Cataract Canyon with OARS!
Located in beautiful Southern Utah, the Colorado River through Cataract Canyon offers outdoor fun for all ages. Incredible scenery, exciting whitewater, spectacular camps and experienced guides make for a unique and adventurous vacation you'll never forget. If you've never tried rafting, this is an excellent river to get your feet wet. Hike among million-year old rock formations, float through Canyonlands National Park and sleep under the star-filled sky. Prize includes meals, catered camping for five nights, skilled professional guide service and high quality equipment including tent. This trip is valued at $3,148. See full itinerary here.
FINE PRINT: Price does not include pre and post trip accommodations, travel insurance, applicable taxes and fees, and gratuities. OARS must have four regular paying guests on the date of your launch. Valid through the 2013 season. Trip begins in Moab, Utah.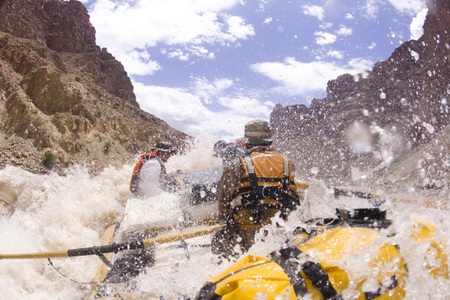 Pioneers in whitewater rafting, OARS has been creating memorable outdoor river experiences for over forty years. OARS recognizes the value in giving back to the places that we travel, as well as the vital role access to water plays in all of our lives. They immediately jumped on the bandwagon to support Passports with Purpose for the second year in a row. Thank you OARS for your generous donation!
If a 6-day rafting trip doesn't wet your whistle (seriously?), then check out all the other donated prizes on the Passports with Purpose website.
Remember, you have until December 11th to bid on this rafting trip or ANY of the available prizes listed on the website. Happy biding!
Photos courtesy of OARS.