Here are my reviews of some of the best spots in Grand Rapids if you are staying the weekend.
Charlie's Crab


With waterfront views of the Grand River and a menu full of fresh seafood, you cannot beat the fine dining at Charlie's Crab!

Grand Central Market and Deli
This little market was a lifesaver for bottled water and groceries while staying downtown. They have a full service deli in the back and a great take out selection of wine and beer on their Menu.
Grand Rapids Public Museum Planetarium
The Roger B. Chaffee Planetarium inside the Grand Rapids Public Museum is a must see if you love exploring the skies. It is name after a Grand Rapids born astronaut who lost his life in the 1967 Apollo 1 Fire. The museum holds the story of the early days of Grand Rapids and showcases a stellar light show with Dark Side of the Moon by Pink Floyd in the Planetarium.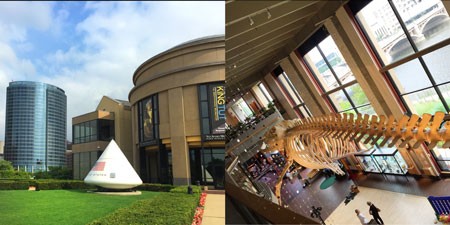 Madcap Coffee
This is a great place to get that morning wake up brew! Some of the best fresh coffee in the city! Start your day with Madcap Coffee.
Grand Rapids Art Museum
The Grand Rapids Art Museum is the world's first LEED® Gold certified art museum. It hosted a varied rotation of visiting exhibits and houses a fine collect of art.
SpeakEZ Lounge
The SpeakEZ Lounge is a great place to catch a game and a brunch to die for! With menu items such as the Blackberry Boursin Monte Cristo (shown) and the O'Bryan's Brekkie, I could eat brunch here every day!
Founders Brewing Co.
Ranked one of the top breweries in the world by Ratebeer.com in the last five years, the folks at Founders Brewing have figured out how to make great beer! You can always catch a great bite to eat and some of the best bands around at Founders.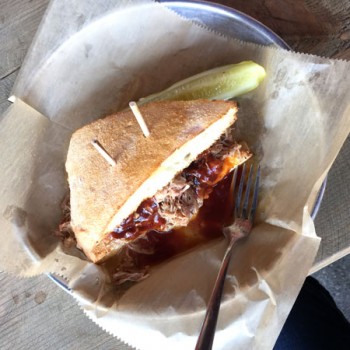 There is plenty to do in Downtown GR. Retail shops, restaurants, pubs and festivals are all with walking distance when you book a room downtown.
You should think about taking that vacation in your own city, you just might fnd some place you didn't know about and really get a sense of your city!
Festivals worth planning around:
All Photography copyright Robyn Porteen
Disclaimer: Some of this experience was provided free of charge for review purposes by ExperienceGR.com, but all opinions expressed are my own.