How to Take a Vacation in Your Own City – Part 1
How the whole idea came to be and how to plan a vacation close to home.
Some of us live in a city, some in the countryside, some on the waterfronts etc… Most of the time we all have our routines which usually include our drives to work, our quick nights out to dinner and running errands around the areas we live.
When we think of vacations, we think of exotic places, or locations that are almost opposite of where we live. City dwellers might want palm trees and beaches for thier excursion, while beach people might want to see the open West or visit a busy city for the culture and art. But have you ever stopped to look at the area you live through the eyes of a tourist? There might be many things right under your nose that you are not even aware of.
Sometimes it is just plain hard to take enough time off to travel very far and spend the time need to really "feel" an area. It might also be difficult to save the money needed for airfare, rental cars and travel agencies that can be required for long  trips.
I remember moving the Gulf Coast a few years ago and was amazed at being able to see the ocean on a daily basis just driving down the road to work. Coming from an inland state, that view was appreciated every day for the year and a half I lived there. I realized that most of the people who lived there never really noticed the water any more. So with those memories and a having a view of saving money, I decided to look at my own city through the eyes of a tourist.
Even though I knew my area well, I reached out to my local Visitors Bureau for recommendations on dining, events, and activities that would give me the experience of my city. I live in Grand Rapids, Michigan, and ExperienceGR.com is my go to for all things Grand Rapids. It just takes a little Google work to find your local Visitor's bureau, and if you live in the countryside or  rural area, you might have to visit a library or a Town Hall to get your local info.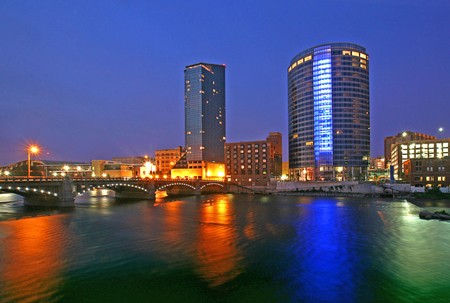 If you live in a city, book yourself into that cool little hotel or try airbnb to find a place to stay. If you are in a rural setting, it might be harder to find lodging, but maybe you can offer to housesit or pet sit for a family needing a vacation. House swapping would be a cool adventure if you have a friend that needs a change of scenery too!
For Grand Rapids, MI, I chose The City Flats Hotel right downtown and decided to park my car and not allow myself to be on wheels for three days. I wanted to explore my city on foot actually live there for a long weekend. I had seen this cool looking boutique hotel just in passing, many times and it was centrally located to many restaurants and museums. It is only 2 miles from my home in the suburbs so I had to do a little pretending that I did not have access to home in case I forgot an item.
I began planning my excursions, meals and just some good old relaxing time wandering around my city. I noticed many details I had missed when I just buzzed in and out for dinners and events in my regular life.
The architectural details on the older buildings really made me think of the history of my city. There was a tall indian sculpture on the corner of a building that I had never noticed before.
If you do it right and stay committed to the area, it is the same as if you are thousands of miles away. The benefits are:
1. You already should know your way around and have an idea of the good and bad areas of your city.
2. It can be much more inexpensive than adding airfare and rental cars to a trip further away.
3. You will grow a better appreciation and gain knowledge for your own area.
4. Any new acquaintances can actually turn out to be close friends since you live in the area.
Stay tuned for Part 2 where I will share my experiences and reviews of the places I visited and see how this was a wonderful way to connect with local businesses and people!
All Photography Copyright and by Robyn Porteen