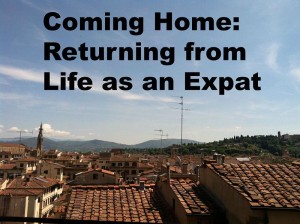 I'm headed back to the States in a few days, and my expat journey in Italy will officially be over. I've lived here for a quite a while now, and it would be accurate to say that I've had mixed emotions. On the one hand, I'm saying goodbye to an experience that has shaped me and who I am, but I am also ready to start some new adventures, as well.
I wrote a post about reverse culture shock about a year ago, and how in some ways that can also be harder for expats than the initial shock you experience moving abroad. You're usually aware that heading overseas will be a huge adjustment culturally and emotionally, but you can be less aware that moving back can be equally as hard. Every time I have returned, I'm always surprised to find out what I've missed in the news and trends that I am not aware of because I've been away for so long (and that I'm a little isolated in Lucca).
For me, this experience also means the end of living abroad for a while. I'm ready to make up a home base from where I can travel from, to come home for the holidays, and to meet up with some of my friends rather than just to have a Skype date. Living abroad has taught me more about myself than any experience I ever could have had, but now it's time for something new. I'm going to have to learn to be patient with myself and not expect myself to assimilate seamlessly. That there are going to be times I desperately miss the constant adventure of being on the road or sitting at a cafe with a steaming espresso. That I am going to miss certain sights and smells that I won't be able to find anywhere else and that's okay.
Everything ends, and my time in Italy has come to a close—but that just means that there is room for more and different kinds of adventures. I have trips planned over the next few months to keep me busy and working, so it should be easier to adjust. I'm also taking back a few little trinkets to remind me of my home here. Needless to say, the coffee is definitely one of them.
Have you ever moved back after an experience abroad? Any suggestions for former expats?