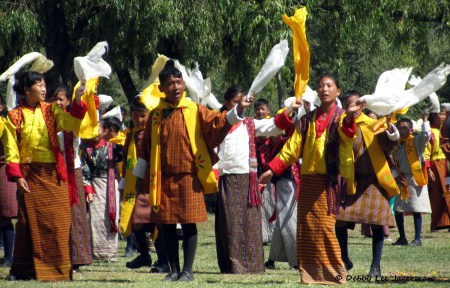 I experienced something unique when I was in Bhutan. In fact I believe that I was the only non-Bhutanese to watch this amazing event. It was not in my guide book, let alone my itinerary, and I didn't even know I was going to be seeing this until about 15 minutes before.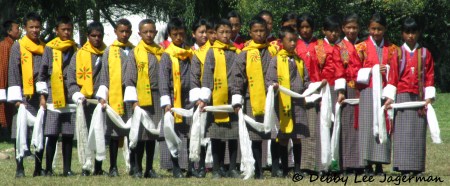 It was a warm day out, the sun was shining, and the air was fresh. Originally I thought that that morning I would be walking around the streets of Paro, shopping, and people-watching until my afternoon activities.
My guide picked me up at my hotel, right on time, and we started driving towards Paro. But his daughter was in the car, a person I did not expect to meet, to know, and did not expect to spend the next several hours with.
Instead of the Paro shopping, I was being taken to a large grassy field. It was not the grass though that was important. It was the people. Hundreds of people. Mostly school children, of all ages. Groups of children, each from a different school in the Paro Dzongkhag ("county"). About 20 groups all gathered in this large grassy field. My guide's daughter and I were dropped off.
You see, it was a few days before the big event, the event that all Bhutanese were already celebrating. It was a few days before Bhutan's beloved king, His Majesty Jigme Khesar Namgyel Wangchuck, was to marry his beautiful bride, Ashi Jetsun Pema Wangchuck.
These groups of children on the grassy field were all practicing dancing and singing routines that a few days after the wedding they would be performing for the King and the new Queen. And here I was! Seemingly the only non-Bhutanese there, sitting on the grass, in the warm sun, watching group after group after group practice their dancing and singing. What an opportunity. I was just in awe. I mean how many times in a lifetime would this happen? I mean how many itineraries would this ever be a part of? It is these types of travel experiences that I cherish the most!
Each group of children was wearing the traditional clothes of Bhutan, Kiras for the women and Ghos for the men, with matching school colors. They danced and sang; sang and danced. Routines that they had down to a tee. Each group unique, different, and beautiful.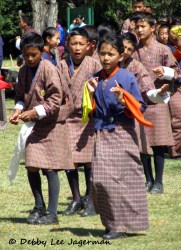 I felt especially proud, like I was a parent, when my guide's daughter danced and sang with her school. I took extra pictures of her. She even checked in on me every once in a while as I sat and watched about 15 of the schools. I told her that she was great in her performance, and I thanked her again and again for the honor of me being there. I even had a chance to talk to some of the children, and some of the true proud parents during my almost three hours at this event.
In addition to watching all the dancing and singing, I also got to witness some of the building of a platform that would be where the King and Queen would be sitting from in a few days time in order to see all the children dancing and singing.

While I know I am not the King and Queen of Bhutan, there were times that I felt so privileged and honored to be watching this special event, that perhaps in some way, I was Queen for just a few hours.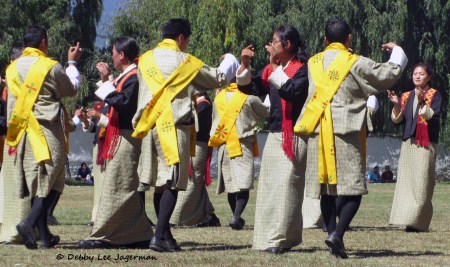 Oh, and remember that I actually briefly met the King and Queen the day after their wedding.
Sweet (and special) Travels!