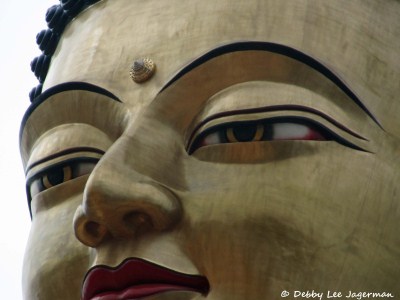 "…Meant to fulfill the prophecy of bestowing blessings, universal peace and happiness to the world as a whole…"
During one of my early-morning-medititative-get-some-fresh-air-before-most-people-are-awake-before-I-start-the-rest-of-my-day walks in Bhutan, I noticed a very large Buddha statue sitting gracefully on top of a hill. It was brilliantly front-lit by the light of the sunrise. It caught my attention much by surprise, as I did not know that this 200-foot statue existed. It stopped me in my steps. I stared at it, contemplated it, and thought how peaceful, meaningful, and powerful it is to have a giant Buddha overlooking your city.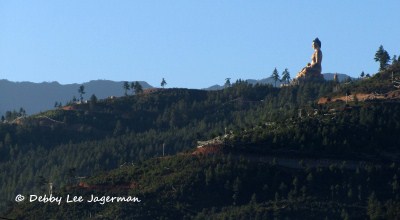 Thimphu is the capital of Bhutan and home to this statue of Buddha Dordenma. Made of bronze and gilded in gold, it symbolizes indestructibility. Buddha Dordenma is being built to become a "major pilgrimage centre and a focal point for Buddhists all over the world to converge, practice, meditate and retreat."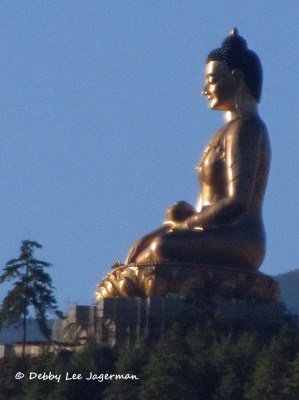 To break down the measurements, Buddha Dordenma's body and the lotus it is sitting on is about 138 feet tall, and the throne underneath is 66 feet tall. I had the opportunity to visit the statue twice during my travels in Bhutan. Driving the three-mile road, at a location 328 feet above Thimphu, not only was looking at the statue up close spectacular, but so was the view of the city and the surrounding landscape.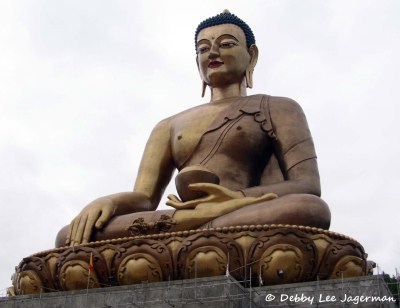 Because it was under construction when I visited, I was unfortunately not able to go inside. But here is a list of some of the amazing amounts of Buddhist items that are to be placed inside Buddha Dordenma. Not only will a total of about 17 stories within the statue contain all these items, these items are "to benefit sentient beings."
*A 10-foot-tall sitting Buddha Shakyamuni, with two Disciples.
*A 16-foot-tall Four-faced sitting Vairochana Buddha.
*Seven 5-foot-tall sitting Reunion Buddhas.
*Eight 5-foot-tall sitting Medicine Buddhas.
*Eight 16-foot-tall standing Bodhisattvas, the miracle sons of Buddha Shakyamuni.
*25,000 statues of a 12-inch Buddha Shakyamuni made of copper and gilded in gold, residing along the walls of mediation halls inside the throne.
*100,000 statues of an 8-inch Buddha Shakyamuni, also made of copper and gilded in gold, filling up the lotus and Buddha Dordenma's body to the top.
*On the ceilings, over 125 Major and Minor Mandala paintings, each measuring 15 by 15 square feet.
*Paintings of the 12 main life events of Buddha Shakyamuni.
And the list goes on. Furthermore, "each statue is filled with sacred relics, powerful mantras, and precious substances." And diamonds will be put between the eyebrows, for the Third Eye of Buddha Dordenma.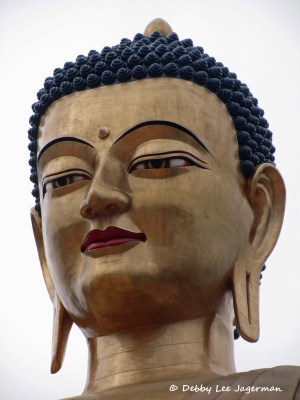 Bhutan will also be constructing a large statue of Guru Rinpoche, a very important historical and religious figure in Bhutan. Guru Rinpoche is regarded as the second Buddha, and he is recognized as introducing Buddhism to Bhutan. This statue will be in the Eastern part of the country.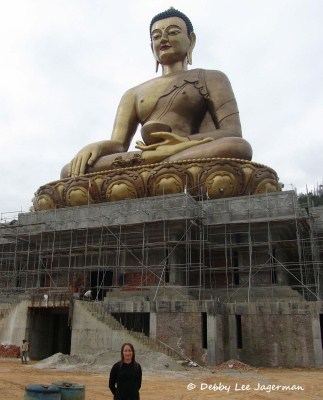 Someday I shall like to go back to Bhutan. I would make my own 'pilgrimage' to the statue of Buddha Dordenma. I would visit the thousands of statues inside, and travel to Eastern Bhutan to visit the statue of Guru Rinpoche.
In the meantime, Buddha Dordenma is "fulfilling the great wish of all sentient beings for everlasting happiness and enlightenment."
Sweet (and meaningful) Travels!
Information for this blog obtained from one of my guides, Pema Wangchuk, and from:
Buddha Dordenma Project
Kuensel Online, Bhutan's Daily News Site
RAOnline
The Buddhist Channel