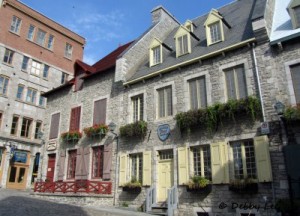 If you want to visit a city that is truly quaint, quintessential, and quite cute, then you must go to Québec City, especially the area of Vieux-Québec (Old Québec)! I felt like I was in Europe during my two completely full days there – and I hadn't even left North America. A blend of French, British, and North American cultures, 96% of the people are native-French speakers (although those who work in the tourist trade also speak English). Québec City gets its name from an Algonquin word, Kébec, which means, "where the river narrows" because the Saint Lawrence River, a 744 mile river, narrows near Québec City.
I was kindly provided a tour of Old Québec and some areas in greater Québec City, and I also explored more on my own. During my four-hour action-packed tour I was provided with lots of information and interesting facts about Québec City and Old Québec, realizing that they are "the best" this, or "the only" that, or "the oldest" this, or "the most" that, or …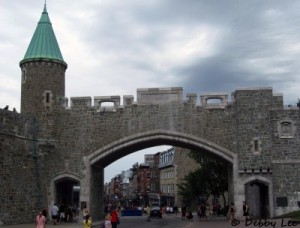 *Founded in 1608, not only is Québec City one of the oldest cities in North America, Old Québec is the only remaining walled city in North America (north of Mexico), meaning that there are surviving fortified walls surrounding Old Québec. These walls are currently an amazing 40 feet high (they used to be 60 feet high) and 20 feet thick. They surround Old Québec and divide Old Québec into two parts. Upper Town is the area above the wall, and Lower Town lies along the river. The entire length of the wall is 2.8 miles. While I walked up one set of stairs to stand on the top of the wall and get a great view of the crowed, lively pedestrian-only street below, I believe that you can actually walk on top of the entire wall all the way around. There are also four surviving gates in the wall, allowing pedestrians and cars to travel between the two parts of Old Québec.
*Because of the historical value of the walls, UNESCO declared the "Historic District of Old Québec" a World Heritage Site, and I was told that it is thus the only World Heritage city in North America.
*Lower Town is home to cobblestone streets, and some of the city's oldest and best-preserved buildings, with its 17th and 18th century stone houses and churches.
*Lower Town of Old Québec is dominated by a towering opulent Victorian castle, Le Château Frontenac. Opened in 1893 it has accommodated many dignitaries over the years, and is the most expensive place in town. If you can't afford to stay at Le Château Frontenac, at least you can take a guided tour. It is also Canada's most photographed building. (I actually have photos of it lit up at night, which will be in a future blog.)
*The Upper Town of Old Québec has J. A. Moisan which is the oldest grocery store in North America founded in 1871. It sells an amazing variety of food, sweets and desserts, spices, wines, chocolates, olive oils, fresh fruits and vegetables, deli meats, cheeses, teas, ready-to-eat deli items, and more. And this store carries all kinds of food made in Québec City. (Another future blog.)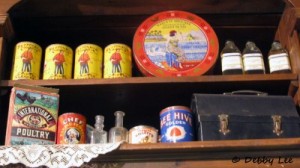 *Upper Town of Old Québec also has the most delicious (my opinion) chocolate museum, Choco-Musée Ėrico, which I promise will be a future blog!
*Québec City has the longest cantilever bridge in the world, the Québec Bridge, at 3,239 feet long. Québec City has the world's best convention center, although I'm not sure who declared this or why. And Québec City is the safest city for a city of its size in North America.
*Québec City is known as the City of Murals, as there are several throughout the city. This five-story wall contains the Québec City Mural which depicts 400 years of Québec City history. Painted is a mixture of sixteen important historical people, horses and buggies, modern-day people including a mother with her baby, a representation of all seasons, examples of local architecture, children, dogs, etc., etc. The mural also includes three favorite activities enjoyed by locals – hockey, beer, and kissing. It is twelve years old, and has not been touched by graffiti. (Can you tell who in my photo below is actually a person standing next to the mural?)
*The hotel that I stayed at, Hȏtel Clarendon, since 1870 is the oldest continually operating hotel in North America. (Also the subject of a future blog.)
*I was told that Québec City is the best place to live in North America if you want to lose weight because of all the hills and walking opportunities, as declared by a fitness magazine. This includes 100 staircases, of which 28 are historical. I was also told that Today's Parent voted Québec City the best place in Canada to raise a family, due to its great amount of parks.
*Much of Québec City is graffiti-free. This is because one special area of the city has been made into graffiti zone, where kids are allowed to graffiti-away here only.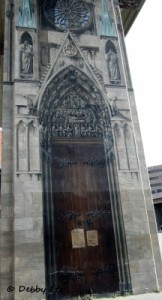 Near this graffiti zone, children are also allowed to paint their own murals, such as these painted on the pillar of a bridge . These murals were painted by homeless children, and represent the inside and outside of a church. In the stained glass window, instead of religious figures, some of the people are actually the kids themselves.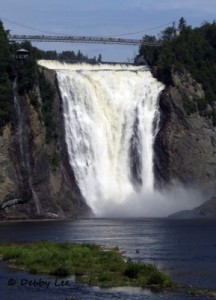 *Montmorency Falls, about 8 miles from Old Québec, are 275 feet high. They are the highest in the province of Québec, and 30% (98 feet) higher than Niagara Falls. And, you can actually ice climb it in the winter.
*There are 89 churches in Québec City. When some of these churches are no longer used for religious purposes, the churches are "recycled." Some become libraries. The adjacent cemetery next to this library-church is used as a park, complete with an outdoor magazine stand, a place to read, walk your dog, and as a place where children can be little artists. Some churches have also been converted into condominiums, concert halls, and even a school for the Cirque du Soleil. (I love this concept of recycling buildings.)
Québec City, and Old Québec, are certainly rich with history, have great places to shop, eat, and sleep, are places to see some unique art, and they take care of their children and buildings. There is a lot more though that I have not even begun to cover. Museums, festivals, other historical forts and battlefields, other parks and churches, entertainment and activities for the visitor all day and well into the evening, year-round. Please visit the links below to find out more information about visiting Québec City and Old Québec.
A big thank you to Sharon Frenette, my tour guide extraordinaire, who in four hours took me all over Québec City, provided me with much of the information in this blog, accommodated my note and picture taking by stopping the car often so I could get out to photograph, and introduced me to the most delicious chocolate in Québec City (again, that is a future blog).
This trip was provided to me courtesy of Montréal Tourism, Québec City Tourism, and VIA Rail Canada, which brought me from Montréal to Québec City (links to all below).
*My next blog will be on Île D'Olréans, my absolute favorite place that I visited in Québec City and Montréal.
Sweet (and the best) Travels!
Related blogs:
Montréal and Québec City: Watching the world go by on on VIA Rail Canada.
Montréal: Endless, Nonstop, and Unlimited…In a Good Way (Part One)
Montréal: Endless, Nonstop, and Unlimited…In a Good Way (Part Two)
Travel Information:
VIA Rail Canada
Québec City and Area
Tourisme Québec
Bonjour Québec
Tourisme-Montréal