Île d'Orléans (Island of Orleans) is located about 15 minutes from Old Québec, via a bridge crossing the Saint Lawrence River. An island full of agri-tourism (90% of the island is agricultural), the island is small in size, only 20 miles long (34 km) and 5 miles wide (8 km), but is large in what it offers the visitor. The island has one main a road around its circumference, which is described as "67 kilometers (42 miles) of quiet things." This outer-road (and a few roads cutting across the island width-wise) is dotted with an abundance of stores to shop, sights to see, things to do, food to eat, wine to taste, and places to sleep. I counted on a map and came up with at least 75 total businesses on this small, yet large, island!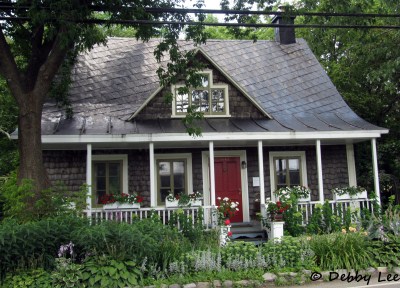 If there was one place on my entire trip to Montréal and Québec City that I would say is my favorite, and that I want to return to some day, it would be Île d'Orléans! It was the highlight of my travels. Now don't get me wrong, I would definitely go back to Montréal and Québec City as well. But Île d'Orléans had me totally enthralled. Even in my approximate one hour on the island, I didn't want to leave. In fact, if I had known that I would have been this interested in the island I would have somehow arranged to stay there longer.
To sum it up, there are farms, arts and crafts galleries and boutiques. Vineyards, wineries, and chocolateries. Restaurants and sugar shacks. Outdoor activities, sports, and nature. Microbreweries and bakeries. Cheese and cider and ice wine; honey and maple syrup; dairy and poultry; gardens and nurseries. Lavender, fruits and vegetables. Restaurants and cafes. Accommodations such as B&Bs, two inns, small motels, and campgrounds. Cottages, even a hostel! Île d'Orléans is an area of history and culture, with a rich heritage. And about 600 historic buildings on this small island of only 100 square miles. Can you tell why I was so enthralled?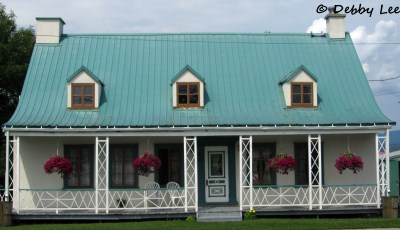 Moreover, all the businesses on this island are mom-and-pop type businesses. No big shopping centers, no big commercial stores, no large hotels. Just locally-owned establishments, providing locally made products. I could spend days going into every single one of these.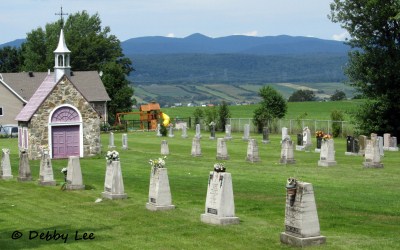 The island also has a religious heritage with its churches, cemeteries, roadside crosses, and other monuments. The landscapes and scenery are beautiful with farmland on the inside, and the coast of the island with the river on the outside. There are no fences between the homes and farms. People leave their clothes hanging out on a line to dry in the fresh air. And just look at the architecture of the homes in the photos I took. I love the comfort of the large porches that adorn the homes. Île d'Olréans is known as the "Garden of Québec." Can you understand why I want to go back?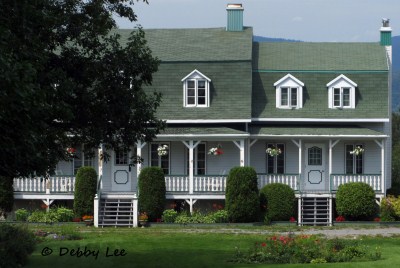 And all the fresh fruits and vegetables! Blueberries, strawberries, raspberries. Apples. Asparagus. Cabbage, Brussels sprouts, potatoes. People from Québec City come here to pick their own fruit. Just about all the veggies eaten in Québec City are grown on this island. The locals sell their produce not only on the island itself, but also in the markets in Québec City, and even to chefs at restaurants in Québec City. Can you see why I didn't want to leave?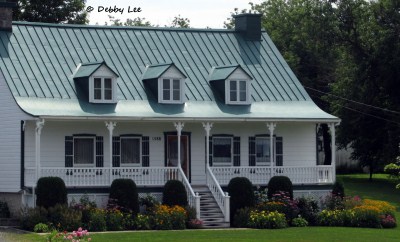 Île d'Orléans consists of six parishes, each with its own specialty. It has a population of 7,000, which rises to about 11,000 in the summer. If you take a car on the island, you can get a CD to listen to as you drive around. A bicycle is another popular way to travel around the island, (although with caution as there really weren't any wide bike shoulders). I even thought of a new transportation option for the island – scooters.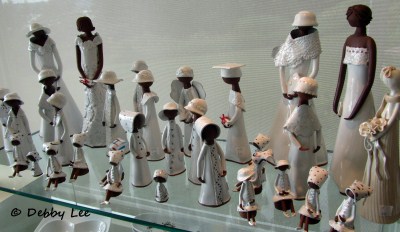 I went into two great shops on my guided tour. Pétronille, a "gallery boutique" was filled with local arts and crafts. Clothing, jewelry, kitchen items, paintings, cards, and more. One collection of tiny figurines created by Mademoiselle Peloquin represents "daily life," and really caught my eye. Babies, children, weddings, graduation, women dressed up for an occasion, all with the cutest hats. There was even an angel figurine, which I was told is an important belief on Île d'Orléans. (I bought the tiny baby in the middle of the photo. Cute!)
I also went into Bilodeau Ciderie, a cider house specializing in everything apple. The first cider makers on the island. One specialty is home-made apple cider, with slight alcohol content in each variety. I tried several, the alcohol content of each rose as I went on. The Ice Nectar (ice cider made with ripe apples, 9% alcohol); Sparkling Cider (a gold metal winner); Fine Pleasure (an apple cider aperitif with maple syrup, 15% alcohol); Fascination (apple mistelle with maple syrup, 18% alcohol); and finally an after-meal dessert cider of 24% alcohol. I will say that they were all very good!
I also tasted some of their jellies, apple butter, and salad dressings. Doesn't the Hazelnut and Apple Syrup Mustard sound good? It was! How about the Strawberry Cider Jelly with Tarragon? Or the Peppered Raspberry Cider Jelly. Or the Ice Cider Jelly. All delicious! They also make apple syrups, apple juice, and apple vinegar. In addition, you can also even pick your own apples. I was given a sample of the apple butter to take home with me, which has long since been eaten.
I realize now in looking at their brochure, though, that I missed trying their apple pie. Too bad, as I love apple pie. Well, now I will definitely have to go back to this island some day.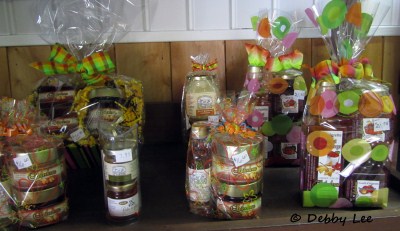 Oh, and I even saw a sunflower field…my favorite flower.
By the way, in case you were wondering what a sugar shack is, the one that I found in doing some extra research for this blog is a place to satisfy your sweet tooth, enjoy a meal, and listen to some folk music by an accordionist. I definitely would want to check this out!
For more information on Île d'Orléans, please visit a couple of websites that I have provided below.
In about a week, I will be traveling to Bhutan for almost a month. My next blog will be on the books that I have read about Bhutan (including several personal memoirs). I will then be taking the month of October off from blogging. When I return, as much as I am sure I will have plenty of blogs to write about on Bhutan, I will resume blogging about my travels in Montréal and Québec City. Including but not necessarily limited to blogs about a delicious chocolate museum, a beautiful botanical garden, Québec City at night, a wonderful restaurant in Montréal, the hotels that I stayed in both cities, photos of windows and doors of Québec City, the oldest grocery store in North America located in Québec City, and others.
Again, a big thank you to Sharon Frenette, my tour guide extraordinaire, who in four hours showed me Québec City, including Île d'Orléans. In addition to her taking me to many places on the island, she kindly stopped the car lots and lots of times so that I could photograph these homes.
This trip was provided to me courtesy of Montréal Tourism, Québec City Tourism, and VIA Rail Canada, which brought me from Montréal to Québec City (links to all below).
Sweet Travels!
Related blogs:
Montréal and Québec City: Watching the world go by on on VIA Rail Canada.
Montréal: Endless, Nonstop, and Unlimited…In a Good Way (Part One)
Montréal: Endless, Nonstop, and Unlimited…In a Good Way (Part Two)
Québec City: Simply The Best
Travel Information:
VIA Rail Canada
Québec City and Area
Tourisme Québec
Bonjour Québec
Tourisme-Montréal
Île d'Orléans Travel Information:
iledorléans.com
tourisme.iledorléans.com