Cheer for Earth Day with WEEE-Man
This is
WEEE-Man
. WEEE stands for Waste Electrical and Electronic Equipment, waste which usually ends up in landfill but from which this seven-foot tall piece of artwork was constructed. His teeth are computer mice, his eyes the doors of front-loader washers. Within the structure there are kitchen appliances such as toasters and microwave ovens; large appliances like washers and tumble dryers; plenty of computer-related equipment and even an electric lawn-mower.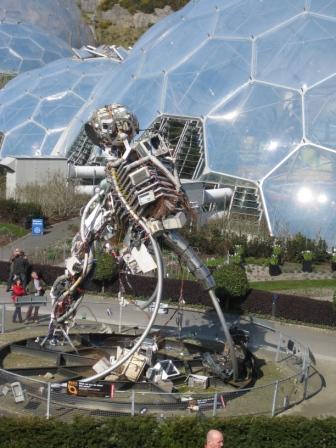 The WEEE-Man currently lives at the
Eden Project
in Cornwall, UK. When we visited last month, I have to say I was totally fascinated by this installation. The second picture above gives a better idea of the WEEE-Man's size and, when you've taken that in, here's the thought I'd like to leave you with this
Earth Day
: the amount of material used to construct this structure is equivalent to the amount that an average individual will throw away during his or her lifetime. Shocking, eh?
Related Posts:
Proposed Cornwall Trip Itinerary
Farm Shops In Cornwall
3 comments