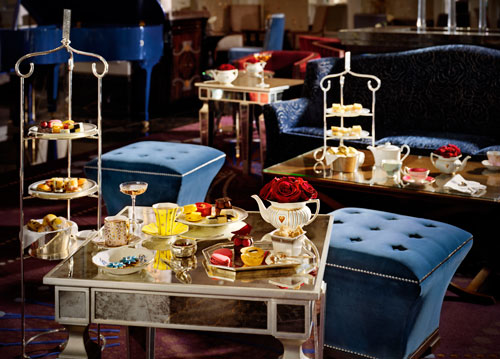 I love afternoon tea! The glorious stop-and-lavish-the-moment aspect of a tea ceremony, be it European, English or Asian, makes me happy. When you're on the road and you want to indulge in some of the best hotel tea ceremonies, from an authentic Japanese tea service to themed teas and rare blends, here's where to head:

Langham Hotels
More than 140 years ago, traditional English tea service began at the Palm Court at the The Langham in London. Now, every Langham Hotel around the world (Pasadena, Boston and Chicago opening soon) serves afternoon tea, named 'Tiffin at The Langham', daily. At the Langham, London, tea themes include the Wonderland Afternoon tea, featuring traditional finger sandwiches and scones with Devonshire clotted cream and strawberry preserves, and 1865 Langham High Tea, which includes French pastries, soup du jour and Laurent Perrier champagne. With all offerings, a tea sommelier is on hand to assist with the pairing of tea blends.
Outside of the U.K., the "Tiffin at the Langham" is served with savory tea sandwiches, scones with Devonshire cream, fruit tarts, homemade pastries and assorted tea cakes and, of course, a variety of delish teas.

The Kitano New York
A stay at Kitano, New York's only Japanese-owned hotel, begins with a cup of green tea and each room is equipped with traditional Japanese tea sets. Also available for groups, you can arrange for a Traditional Tea Gathering Ceremony to sample and learn about the traditions of thin tea (usucha) served in some of the finest pottery and antiques along with a traditional light meal (tenshin) prepared by the hotel's Michelin starred Japanese restaurant, Hakubai. The ceremonies take place in rooms with traditional Japanese décor and an authentic setting with tatami mats and shoji screens. Annually, they host a Japanese Tea Ceremony event in Fall/Winter, more details to come.
The Windsor Court Hotel, New Orleans
Built for the 1984 World's Fair, The Windsor Court Hotel pays tribute to its British roots, with an authentic English afternoon tea service. Offering a selection of 26 of the finest loose-leaf variety brews, tea time begins with a light cocktail or sparkling beverage, followed by a properly brewed pot of tea and nibbles like gourmet sandwiches, scones and desserts. Depending on the time of year, the hotel also offers themed teas such as a an Alice in Wonderland Tea, Princess Tea for young girls, and a Butterfly Tea, featuring live butterflies in displays courtesy of the NOLA's Audubon Insectarium.

The Angel Hotel, Abergavenny, Wales

I ate my way through Wales, truly from the north to the south. And even though my pants were popping at the seams from the previous days gluttony, when I stayed at the Angel Hotel, I had to try the award-winning high tea. (Angel Hotel won 2011 Best Afternoon Tea in Wales by the UK Tea Guild). So glad I did as I still remember the clotted cream and dainty scones. And if you time the high-tea just right, you may be lucky enough to meet the co-ed Knitting Out club, which convenes at the hotel for weekly group knitting sessions.
Rome Cavalieri, a Waldorf Astoria Hotel
Tea with Tiepolo is a tradition not to be missed at the Rome Cavalieri hotel. Served in grand style at the Tiepolo Lounge and Terrace, the service combines the charm of an English afternoon tea with the lustiness of Italian cuisine. Finger sandwiches, scones, selection of pastries and assorted fruit are all served on a vermeil tea set. Making a tea selection could take some time as there are lots of exotic blends to choose from including Yin Zhen, a rare white tea from an island in Hunan province in China, and Budda Ama-Cha, an exotic green tea grown in the uplands near Kyoto in Japan. And what's not to love about taking tea while staring up at the hotel's greatest art treasures – the magnificent Tiepolo triptych.
For more info, on best hotel tea ceremonies, check out:
Best Hotel Teas Just for Kids
8 Best Places for Afternoon Tea in New York City
World's Best Hotels for Afternoon Tea
In other tea news:
Fancy Tea Sets For Mom (or any other tea lover in your life)
Drink Well,
Lanee
Headline photo courtesy of Langham Hotels. Angel Hotel high tea photo by the author.
FYI – This list is not exhaustive, just a few I like. Feel free to add yours!